Humanitarian needs increasing in Horn and Sahel, says UK's Chatham House think tank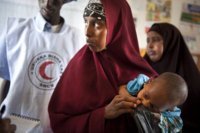 15 April 2013
Environmental and demographic changes coupled with low levels of political inclusion and high instability mean that the risk of "acute food crises" in the Horn of Africa and the Sahel is likely to increase, according to a new report from the London-based think tank Chatham House.
These trends mean unmet humanitarian needs are increasing, it says, despite more donor spending. 
Famine Early Warning Systems (EWS) to anticipate food crises provide a major opportunity to save lives, protect livelihoods, check costs and close funding gaps, says Managing Famine Risk.
"Yet all too often, the link between early warning and early action fails and the opportunity to mitigate a gathering crisis is lost." 
The Chatham House report details the political, institutional and organizational barriers to translating early warning of famine into early action to avert it, and makes recommendations for how these can be overcome.
'Paradox'
In general, the report calls for official early-warning capacity and effectiveness to be increased, vulnerable communities to be empowered to take "early action" themselves, and humanitarian agencies to reduce operational lead-times and maximise readiness.
"For example, the
Climate Change Adaptation in Africa
project has successfully integrated both traditional and scientific approaches to weather forecasting," says Managing Famine Risk, "resulting in more accurate forecasts and greater community acceptance."
But in a special section entitled "The early warning paradox", the Chatham House report points out that longer lead-times can also "provide the opportunity for prevarication". 
"This can be seen in the case of climate change," it says, "where initial lead times for early action were on the decadal scale, yet – despite increasing scientific certainty and a strong economic case for early action – the international response has been weak and the goal of limiting warming to below 2°C now looks almost impossible." 
A displaced mother and child at a Somali Red Crescent clinic. After seasonal rains failed, Somalia was gripped by a severe drought that started in October 2010 and had dramatic humanitarian consequences in 2011.
(Photo: Olav Saltbones/Norwegian Red Cross)