Kenya Red Cross tackles urban climate-risk – in all its forms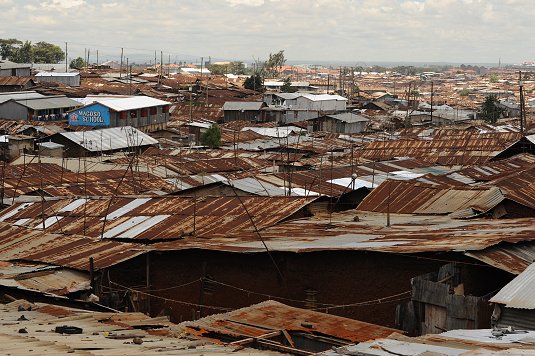 19 March 2013
Water shortages, disease, crime, rising food prices, house fires, uncontrolled urbanization (migration from rural areas): these are all potential risks faced by people who live in Nairobi's "informal settlements" – its slums – amid the hotter, wetter conditions predicted by most climate models.
Not all are obvious, and little has been written about the effects of climate change on sprawling urban and peri-urban areas in East Africa.
Take house fires. In Nairobi neighbourhoods like Mukuru Kwa Njenga, Blue Estate, and Mathare, people illegally wire up their mabati (corrugated iron) homes to mains cables; when it rains, the resistance of the grounding point changes and the result can be short circuits and fires.
Extreme heat is also associated with fires spreading more easily; when it's cold, fires are started in accidents with space heaters.
Or crime. The din of torrential rain on iron roofs provides thieves with ideal cover, residents say. Neighbours can't hear cries for help, they add, and people are reluctant to go out into the rain to investigate. 
But most residents agree on one thing: fires have decreased since 2010 due to the work of the
Kenya Red Cross Society
 (KRCS).
'Multi-hazard approach'
With support from the
Danish Red Cross
(DRC), the KRCS is implementing a two-year "urban risk reduction" (URR) project in seven informal settlements in Nairobi. 
The KRCS uses a "multi-hazard approach" to tackle disease, including HIV, prevent fires, and promote public health, first-aid training, and structural improvements to homes.
As part of this project, the DRC and the Climate Centre conducted a detailed climate assessment in all the project sites, to develop tailored recommendations for adaptation measures it can incorporate. 
"Climate change is expected to increase the probability and frequency of heavy rainfall events and warmer temperatures," writes Erin Coughlan, the report author and a Climate Centre specialist. 
"A number of long-term interventions can be taken by community members to reduce their risk of disaster. 
"In addition, the establishment of an early-warning system for rainfall, and possibly also flash floods, would enable community members to avoid the worst consequences."
The Kibera slum in Nairobi – the Kenyan capital's largest. The Kenyan Red Cross, with Danish Red Cross support, is working on a two-year programme to address the urban hazards potentially being aggravated by climate change. (Photo: IFRC)