Playing at road safety…in a changing climate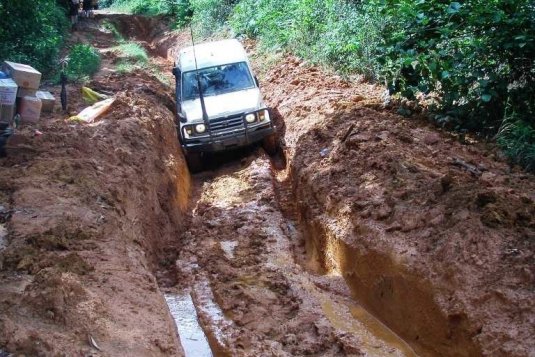 7 March 2013
The 2012 prize for best master's thesis in humanitarian logistics has been awarded by the HUMLOG Institute to Rose van Steijn for "Participatory Games as a Possible Road to Safety," which she wrote at the Università della Svizzera Italiana (USI). 
"The novelty of the thesis…and the potential to impact on humanitarian logistics practice were the main criteria in selecting [it] as the winner for 2012," said the website of the Humanitarian Logistics and Supply Chain Research Institute (HUMLOG).
"Lack of enforcement of traffic rules and regulations, poor infrastructure and education, as well as extreme-weather conditions increase the likelihood of road accidents. 
"Studies also show that road travel is one of the highest occupational-risks for aid and development workers."
Fleet Forum – an association of more than 40 NGOs, international organizations, UN agencies, academic institutions, donors and corporate partners – helps humanitarian organizations achieve road safety, cost efficiency and reductions in environmental impact. 
The group – seeing a need for behaviour change to try to bring down the death toll on the roads – created the board game Driving Force that helps players understand the link between fleet-safety management and organizational performance. 
In her thesis, Van Steijn describes an experiment conducted at the Fleet Forum 2012 annual conference which tested the knowledge, attitude and behaviour of a PowerPoint audience versus that of game players.
It concluded that game simulations "support learning, engagement and raising awareness of topics like fleet safety," she says. 
Transport accounts for about a quarter of global CO2  emissions, according to some estimates; but a less widely reported aspect is the reverse relationship – the impact of climate change on surface transport and road safety.
"Climate change-related shifts in weather patterns may also affect infrastructure disruptions," according to a 2009 Netherlands VU University study cited by Van Steijn.
"Clear patterns are that precipitation affects road safety; it increases accident frequency but decreases accident severity," the study adds. "Precipitation also increases congestion, especially during peak hours."
A agency Land Cruiser fights its way along a ditch after a downpour in Bopulu, Liberia. The intense precipitation that goes with long-term climate change may be increasing the death toll on the world's roads. (Photo: Fleet Forum)