'Climate change adaptation': it's not just money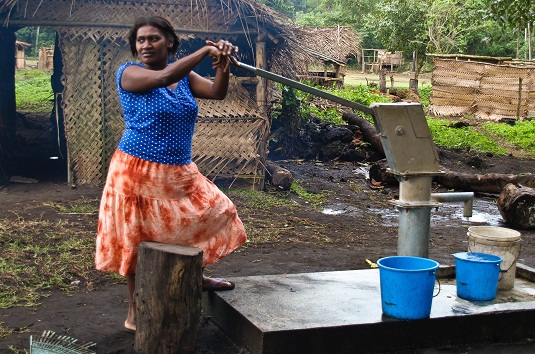 5 March 2013
(A full version of this article ran in last month's Islands Business magazine.)
The recent cyclone in Fiji demonstrates that early warning can and does save lives.
It also demonstrates that early warning is not an end in itself but must be linked to communications systems, supportive media outlets and messages that are understood and most importantly acted on.
Red Cross societies across the Pacific are working with local communities and governments to assist in taking early action to increase people's safety and resilience.
The regional office of the International Federation of Red Cross and Red Crescent Societies in Suva, Fiji, uses seasonal climate updates and keeps a close eye on El Niño and La Niña events.
They link potentially low- or high-rainfall periods to actions National Societies can take to prepare at national and community level.
For example, during the 2010–2011 La Niña events, the Tuvalu Red Cross used information on probable dry conditions to broadcast advice on its regular radio programme on the best use of water, alongside a hand-washing campaign to minimise diarrhoea outbreaks.
The Tuvalu Red Cross has more recently worked with the country's Meteorological Office to erect signs on Funafuti to educate schoolchildren about directions used in weather warnings.
In Vanuatu, the National Society has been working in the most remote parts of the country (photo): distributing and setting up vital communications systems, running water and sanitation projects and disaster simulation exercises with communities, and creating action plans with communities to deal with extreme events, as well as longer-term issues such as coastal erosion.
The Red Cross is also producing a booklet with ideas for reducing risk that National Society branches across the Pacific can easily implement without large amounts of funding and support.
Activities already undertaken include basic first aid, preparedness, early warning and disaster relief.
But while ongoing discussions on the polluter-pays principle around climate finance are imperative, climate change adaptation isn't just about attracting large amounts of funding.
Activities such as those undertaken by the Red Cross show it isn't all about big money and big infrastructure, but also building on what may already be considerable community resilience to further support youth, volunteers and communities.
Unfortunately climate change is not going away – we're just getting a taste of things to come.
A woman pumps drinking water from a well in Vanuatu, where the Red Cross is working in the most remote parts of the country on communications systems, water and sanitation, and contingency planning for disaster.
(Photo: Kathleen Walsh/Australian Red Cross)