Climate change 'driving poverty and conflict', UN Security Council told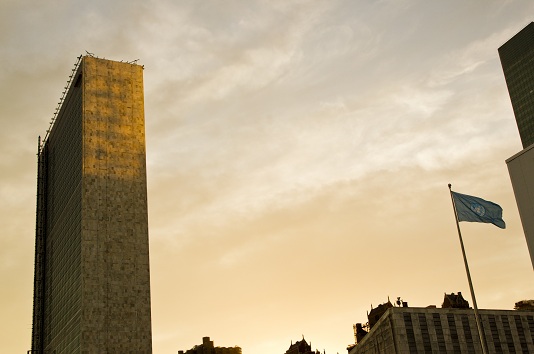 21 February 2013
The United Nations Security Council held an informal session last Friday, convened by Pakistan and the UK, to discuss "the security dimensions of climate change". 
Security Council members, and other states, disagree on whether climate change, which it first debated in 2007, lies properly within its remit and should feature permanently on its formal agenda.
Friday's "Arria Formula" briefing – not held in the Security Council's main chamber – was seen as an effort by some states to keep it on the Council's informal radar.
 
The Climate Action Network – a network of over 700 NGOs in nearly 100 countries –warned the Council in a press release that climate change is "a critical driver of poverty, inequality, instability, and conflict which would ultimately affect us all".
UN Secretary-General Ban Ki-Moon last week told a US think tank: "Too many leaders seem content to keep climate change at arm's length, and in its policy silo. Too few grasp the need to bring the threat to the centre of global security, economic and financial management."
Mr Ban, addressing the Council on Foreign Relations, cited development reversals, increased displacement, tensions over resources and destabilization of fragile states as potential consequences of "the gathering threat of climate change".
After the Friday Security Council meeting, Tony deBrum, minister-in-assistance to the president of the Marshall Islands, told a press conference at UN headquarters that
roads in his Pacific island nation were now flooded every two weeks; water was rationed in the capital atoll, Majuro, and in the northern islands emergency desalination kits were being distributed as wells were flooded with seawater.
The climate-based crisis long predicted for parts of the Pacific was already happening – not just his own country but also Kiribati, Tuvalu and some other low-lying islands. But "many of our own friends throughout the world do not realize the urgency of the problem," the UN news service quotes Mr deBrum as saying.
Madeleen Helmer, director of policy and communication at the Climate Centre, welcomed last week's move to keep climate change on the horizon, if not the formal agenda, of the Security Council.
"The new climate-related hazards we face will cut across professional sectors, international borders, timescales and agency mandates," she said. "As never before, we need strong, productive partnerships, and we will have to act on the basis of uncertainty – not just wait for the disasters that are increasingly 'certain'."      
The UN's New York secretariat building at sunset. Secretary-General Ban Ki-Moon last week spoke of the "gathering threat of climate change".
(UN file photo/Rick Bajornas)