New IFRC early-warning guidance stresses 'timescales'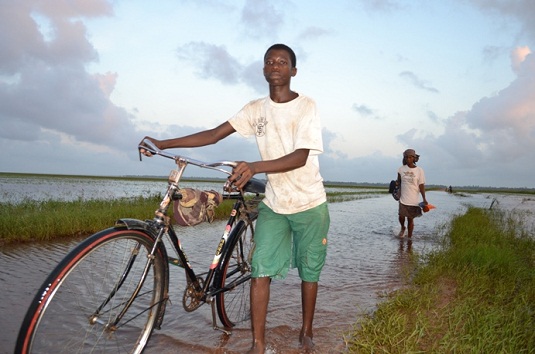 7 February 2013
Detailed new IFRC guidance for National Society staff and volunteers stresses the importance of following up humanitarian early-warning of hazards with early action across different timescales.
The IFRC advocates a "people-centred approach that is essential to ensure information and warnings captured by satellites, computer modelling and other technologies reach the most vulnerable communities," says Secretary General Bekele Geleta in a foreword to Community early warning systems: guiding principles, published online at the end of last month. 
But he adds: "Early warnings alone do not keep hazards from turning into disasters. Early action, covering all timescales, is also essential.
"It is an investment in the future, and has been proven effective at attenuating… disasters."
The new publication proposes 13 "guiding principles" for harmonizing work in this area by disaster managers across the Red Cross Red Crescent Movement. 
The sixth principle – "Accommodate multiple timescales" – says "actions that make sense locally hours before an extreme event begins may be very different from [ones] that make sense long before, for instance, when a seasonal forecast indicates enhanced flood-risk for a coming rainy season."
One of several examples of climate-related "good practice" cited in the report is a project in Mozambique which aims to reinforce community preparedness with a focus on climate change.
It includes mapping vulnerability to floods in the Zambezi basin, evaluating links with climate change, and increasing preparedness well before a hazard arrives.
The more than ten-year-old culture of preparedness in Mozambique paid off again this month when severe floods hit the south of the country, displacing as many as 200,000 people, according to the IFRC's Alexander Matheou.
"The early-warning systems worked," he writes. "Improved climate science, combined with the commitment of the authorities to disseminate warnings through radio and volunteers with the Mozambique Red Cross, meant people had time to pack and leave for higher ground."
During the 2000 floods, over 700 people died; in 2013, fewer than 100 are reported to have lost their lives so far.
Yet the experience of Mozambique highlights the importance of following up warning with action: in a single district of Gaza province alone, about 100,000 people are sleeping in the open, says Matheou, and there are problems with supplies of food, water and hygiene materials.
"Relief is being distributed, but it is in painfully short supply," he adds. "Roads are still crammed with moving people, and the numbers are swelling."
People in Mozambique, like these residents of Maganja da Costa district in 2012, now get good early-warning of flood danger, and casualties are generally much lower than a decade ago. But getting relief through to people is still a challenge. 
(Photo: Tapiwa Goma/IFRC)