'Cloud Nasara' animations will communicate climate in the Pacific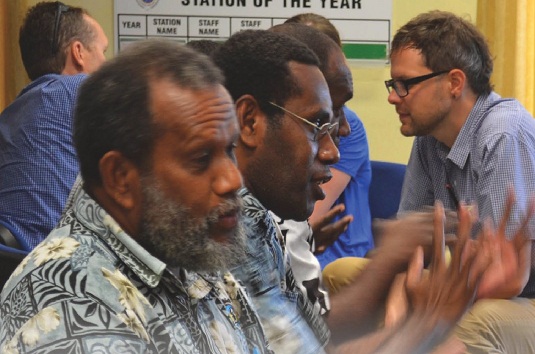 28 January 2013
The Cloud Nasara project to produce two animated short-films illustrating climate issues in the Pacific is nearing full production, with a final workshop due to be held next month to gather input from stakeholders on the storyboards.
Cloud Nasara is an innovative collaboration involving the Australian, German and Vanuatu governments, local Red Cross societies, and the Climate Centre.
It aims to raise awareness of climate variability in the Pacific and stimulate discussion on how communities can access forecast information, prepare for future El Niño and La Niña events, and adapt to climate change
The humorous shorts are being developed as communications tools: one will provide an overview of climate processes and their impacts in the Pacific; the other focuses on the pilot island-nation, Vanuatu.
It's hoped the films will be used by a variety of agencies working in the climate field, as well as Pacific governments, schools and community groups.
They will be accompanied by a resource pack and are intended to help practitioners discuss climate-related impacts on disaster risk, health, food security, communities and the environment.
The Cloud Nasara project is being developed through a consultative process that includes focus groups and work with key local stakeholders.
Stakeholder representatives met in the Vanuatu capital, Port Vila, last October to discuss storyboards for the Cloud Nasara animated shorts.
(Photo: Ula Majewski/Vanuatu Meteorological Services)