'Climate-smart' preparedness by Red Cross saves lives in the Philippines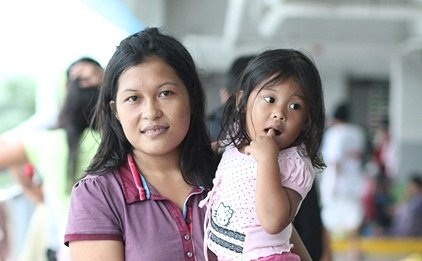 5 December 2012
Some 200 people are now reported to have died after Typhoon Bopha struck the Philippine island of Mindanao, bringing with it torrential rain and
175-kilometre winds.
But the death toll might have been higher if tens of thousands of people had not been evacuated ahead of the storm, now passing over the western island of Palawan.
Bopha – known locally as Pablo – made landfall early on 4 December in Davao Oriental province, on the east coast of Mindanao.
Reports from affected areas say electricity has been cut in some areas, scores of flights grounded and ships forced into port, leaving thousands stranded.
The Philippine National Disaster Risk Reduction and Management Council says 53,000 people are sheltering in nearly 100 temporary evacuation centres.
The Philippine Red Cross (PRC) began preparing for the typhoon well in advance and monitored its track well before it made landfall.
"Families were prompted to leave their homes hours before the typhoon struck," says the latest PRC report, "using lessons learned from Typhoon Sendong [known internationally as Washi] that killed more than a thousand people and displaced thousands of families last year."
"It's unfortunate that almost the same areas affected by Washi in 2011 will be hit again by Typhoon Bopha," said Gwendolyn Pang, the PRC's secretary general, "but we made sure that our chapters [branches] were more prepared this time.
"Days before the storm, we put volunteers and first-responders on stand-by and we had relief stocks in place."
The PRC added that its response hardware such as dinghies, amphibious trucks, rescue vehicles and ambulances were pre-positioned to respond swiftly "to any eventuality that may arise".
The IFRC is launching an emergency appeal to help the PRC provide immediate food and non-food relief as well as longer-term help in water and sanitation systems, cash and shelter materials.
"The climate-smart disaster risk reduction and preparedness that the PRC is investing in is even more important in a changing climate," said Climate Centre director, Dr Maarten van Aalst.
At the UNFCCC COP18 meeting in Doha, Qatar, now in its second week, the IFRC delegation "has been stressing the importance of including better management of disaster risk in climate change adaptation, and focusing especially on the most vulnerable people," added Dr van Aalst, who was at the UN climate talks.
In general, Typhoon Bopha, a Category 4 tropical cyclone and the strongest storm to hit the Philippines this year, fits the pattern of a generally rising risk of extreme-weather events amid climate change.
The Intergovernmental Panel on Climate Change (IPCC) last year reported that it's likely such storms will increase in intensity in a warmer atmosphere, while their frequency would stay the same or decrease.
In addition, as with Hurricane Sandy that hit the north-east US a month ago, rising sea-levels are adding to the coastal damage of related storm surges.
Charisa Bacuyo, 26, a Bopha evacuee, took her two children to a shelter as the storm bore down on Mindanoa. "I won't let this new typhoon take anyone from me by not being prepared," she said. (Photo: Franz Nikko Lacsina/IFRC)