Lancet Countdown report on climate and health flags 'growing levels of heat-related mortality among vulnerable people worldwide'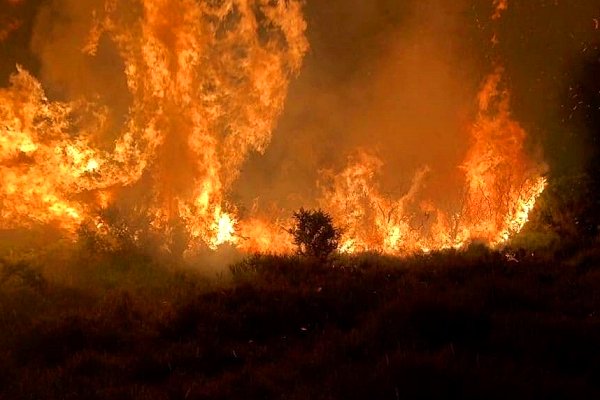 3 December 2020
This year's Lancet Countdown on Health and Climate Change, published today by the world's leading medical journal, says the last 20 years have seen a 54 per cent increase in heat-related deaths in older people globally.

The report – a collaboration of 120 experts from at least 35 institutions, including the WHO and the WMO and led by University College London – says the lives of nearly 300,000 older people were lost to "heat-related mortality" in 2018.

There were nearly 3 billion additional days of officially assessed heatwave exposure affecting people over 65 last year, almost twice the previous level.

People's ability to work outdoors, in developing countries especially, is increasingly affected, generating what a Lancet press release calls "significant economic implications"; in 2019, India alone accounted for 40 per cent of just over 300 billion work hours lost.
'Climate change drives a cruel wedge
which widens existing health inequalities
between and within countries'
The Lancet Countdown's fifth annual report, published on the anniversary of the 2015 Paris Climate Agreement, tracks more than 40 indicators of links between health and climate change, and presents "the most worrying outlook to date as key trends worsen", the release added.

"Healthcare systems are ill-prepared as extreme heat leads to fast-rising mortality worldwide and threatens the livelihoods of millions," it says.

The report's Executive Director, Dr Ian Hamilton, said: "The [Covid-19] pandemic has shown us that when health is threatened on a global scale, our economies and ways of life can come to a standstill.

"The threats to human health are multiplying and intensifying due to climate change, and unless we change course our healthcare systems are at risk of being overwhelmed in the future.

"This year's devastating US wildfires and tropical storms in the Caribbean and Pacific, coinciding with the pandemic, have tragically illustrated that the world doesn't have the luxury of dealing with one crisis at a time."

Other risks emphasized in the Lancet Countdown include sea-level rise projected to threaten the displacement of up to 565 million people by the end of the century; also what it says are 7 million annual deaths from air pollution associated with fossil fuels.

"Global climate susceptibility" for the transmission of dengue fever has increased by 15 per cent since 1950, the report says, and for malaria in highland African areas by nearly 40 per cent and by as much as 150 per cent in the WHO western Pacific region.

'Key moment'

Professor Hugh Montgomery, Lancet Countdown co-chair and an intensive care specialist, added: "Climate change drives a cruel wedge which widens existing health inequalities between and within countries.

"Our report shows that – just as for Covid-19 – older people are particularly vulnerable, and those with a range of pre-existing conditions including asthma and diabetes are at even greater risk."

An editorial in the Lancet alongside the report highlights that climate change and zoonotic pandemic-risk share common drivers, "making them inextricably entwined so that they must be handled together.

"Climate change and its drivers damage the environment through urbanization, intensive agriculture and unsustainable food systems, air travel and tourism, trade, and lifestyles powered by fossil fuels, in turn creating conditions that encourage zoonoses."

The Lancet Countdown authors also suggest, however, that recovery from the Covid-19 pandemic "offers a key moment to act on climate change".

A joint response to the converging crises, they argue, "offers the chance to improve public health, create a sustainable economy, and protect the environment."
*
The new Lancet Countdown, an authoritative addition to the case for intensified climate action, chimes closely with our humanitarian concern about rising risks, writes Climate Centre Director Maarten van Aalst.

We are extremely worried about the rising human toll of the climate crisis. Heat is the most deadly disaster, and the risk is rising fast; but equally we can save lives through better early warning and simple individual actions such as keeping a watchful eye on vulnerable elderly people.

On a larger scale we can design our cities to account for the changing climate and reduce the now-notorious "heat-island effect" in built-up areas.

The Lancet findings also echo those of many scientific attribution studies pinpointing the climate role in specific extremes that have huge impacts. Our World Weather Attribution (WWA) partnership, for example, recently concluded that the heatwave in Siberia in the first half of this year would have been impossible without human-induced climate change.

This was actually a scenario that scientists had been discussing as a potential nightmare for much later this century; but the fact that it arrived this year merely confirms that the climate crisis is here, now.

Simple heatwaves are, of course, one of the most straightforward and intuitively understood impacts of climate change; wildfires are somewhat more complex, but even there WWA used four different climate models to show that the probability of a Fire Weather Index as high as it was a year ago in south-east Australia has increased by at least 30 per cent since 1900 from climate change.

Heat is one of the main factors behind the index, and again it's surely no coincidence now that we see temperature records tumbling in parts of Australia.

A final point, relevant to the pandemic linkage, is that this latest Lancet Countdown echoes both with the IFRC's recent World Disasters Report, which argued precisely that the massive stimulus packages being developed in response to Covid-19 pandemic are an opportunity to address climate vulnerability, and our analysis in September that more than 50 million people have been affected by floods, droughts or storms and Covid-19.

As the Lancet Countdown indeed puts it well, the world no longer has the luxury of addressing just one crisis as a time.

Not Australia or California but the English county of Surrey. A wildfire on Chobham Common in early August, in the middle of the third officially declared episode of extreme summer heat that led to higher mortality than at any time since the start of hazard planning some 15 years ago. (Photo: Surrey Fire and Rescue Service via Twitter.)