British Red Cross 150th anniversary essays: the case for change in a time of crisis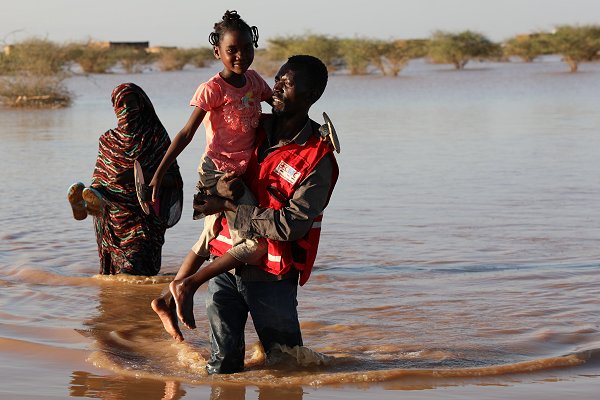 12 May 2021
The British Red Cross has published a collection of essays to mark its 150th anniversary, including one on climate by Nisreen Elsaim, Chair of UN Secretary General's Youth Advisory Group on Climate Change, which stresses that all countries must have an equal opportunity to influence climate negotiations – with a particular emphasis on the role of young people.
The collection brings together leading thinkers, outlining what they see as the current challenges across three major humanitarian issues: health inequalities, displacement and migration, and disasters and emergencies.
In a foreword, David Bernstein, BRC Chair of Trustees, writes: "The central role the Red Cross has played around the world in responding to the Covid-19 pandemic highlights that the organization is as essential now as it ever has been."
Looking forward to a post-pandemic world, he adds that "we should look to and work with local people to find fresh answers, try new things and make ourselves stronger for the future.
"Building local resilience is critical. While the Red Cross is perhaps best known for its emergency response to disasters and extreme-weather events, the worldwide Movement also supports communities across the globe to prepare for and recover from major shocks and knocks" that can be years in the making and take years to recover from.
He adds: "Take an issue that is now absolutely critical: tackling climate change. While much of the public conversation on climate change looks to the future, we must help communities deal with the devastating impact climate change is having, right now."
'We should look to and work with local people
to find fresh answers, try new things
and make ourselves stronger for the future'
In her essay on climate in the section on disasters, Nisreen Elsaim, who is Sudanese, recalls that Sudan "used to have a reliable rainy season with moderate rain over a four-month period, from May to August. But now the rains come later and last for a shorter period, but they are much more intense.
"In July 2020 we experienced the worst flooding in 100 years, with more than 800,000 people losing their homes."
Problem flooding, she explains, has become common in Sudan over the past decade. And part of the response has been the mobilization of the traditional Sudanese concept of nafeer, which describes people coming together to solve a problem, and which has now become a fully-fledged youth-led social movement.
"Young people came together and planned how to help citizens," Ms Elsaim said. "Rescue teams were created, helping people that were stuck in their houses and villages [in 2020]. Huge stores were set up to accept and distribute food and clothes donations. A system was also developed for collecting data on a very large scale."
Nisreen's full story appears in Communities of humanitarian thought: the case for change in a time if crisis, which was published by the BRC last Wednesday and compiled in partnership with the UK-based Demos think tank.
August 2020: a Sudanese Red Crescent volunteers carries a girl to safety during the floods in River Nile state. The flooding last year in Sudan, described as unprecedented, were a case study focused on by Nisreen Elsaim in her essay for a collection marking 150 years of the British Red Cross. (Photo: Haitham Ibrahim/SRCS)