2020: a year of 'extraordinary climate events' and a tie for the warmest on record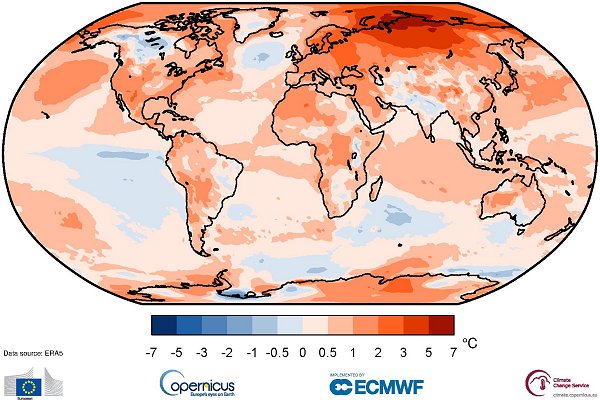 8 January 2021
Twenty-twenty equalled the warmest year ever recorded globally, 2016, and it was the warmest on record for Europe, the EU's flagship Earth observation programme said today.
The Copernicus Climate Change Service (C3S) said 2016 and 2020 were jointly the sixth in an unbroken series of exceptionally warm years starting in 2015, while the decade to last year was the warmest recorded; Europe was 0.4°C warmer in 2020 than the previous record set the year before.
The concentration of CO2 in the atmosphere continued to rise, meanwhile, despite an estimated 7 per cent fall in fossil fuel-based emissions amid Covid-19 economic slowdowns.
Overall, 2020 was 1.25°C above the 1850–1900 period and the deviation from the standard 1981–2010 baseline last year centred on the Arctic and northern Siberia and reached more than 6°C above average.
"Western Siberia experienced an exceptionally warm winter and spring, a pattern also seen over summer and autumn in the Siberian Arctic and much of the Arctic Ocean," a C3S press release said.
'We must come together as a global community
to ensure a just transition to a net zero future'
Climate Centre Director Maarten van Aalst said in an interview in November that with the global heatwave trend rising even more rapidly than models predict, "We can say almost with certainty that events in Siberia…with both a terrible heatwave and wildfires, for example, wouldn't have happened without climate change.
"Heat is a highly underestimated risk factor with major negative social and economic impacts."
Today's C3S report said Arctic sea ice was significantly lower than average last year, with new record monthly lows in July and October.
Last year matched the 2016 record despite a cooling La Niña, it adds, whereas 2016 was a record year that began with a strong warming El Niño event.
"2020 stands out for its exceptional warmth in the Arctic and a record number of tropical storms in the North Atlantic," said C3S Director Carlo Buontempo. "It is no surprise that the last decade was the warmest on record and it is yet another reminder of the urgency of ambitious emissions reductions to prevent adverse climate impacts in the future."
'No surprise'
Matthias Petschke, Director for Space at the European Commission's Directorate-General for Defence Industry and Space, said today: "The extraordinary climate events of 2020 and the [C3S] data show us that we have no time to lose.
"We must come together as a global community to ensure a just transition to a net zero future. It will be difficult, but the cost of inaction is too great, which is why the commitments made under our European Green Deal are so very necessary."
Professor Van Aalst adds: "From the humanitarian standpoint particularly, this new data and the analysis with it again emphasizes that besides reducing emissions we also need to step up our efforts to address and adapt to the rising risks."
A full analysis of Europe's climate is due in April in C3S's annual European State of the Climate 2020.
Air temperature diff­erence at a height of two metres between last year and 1981–2010 baseline, according to new EU satellite data; the darker the red shade the greater the difference, and note the warmest area of all above Siberia and the Arctic. (Image: Copernicus Climate Change Service-ECMWF)