Climate crisis and anticipatory action among 'priority topics' at 7th Humanitarian Networks and Partnerships Weeks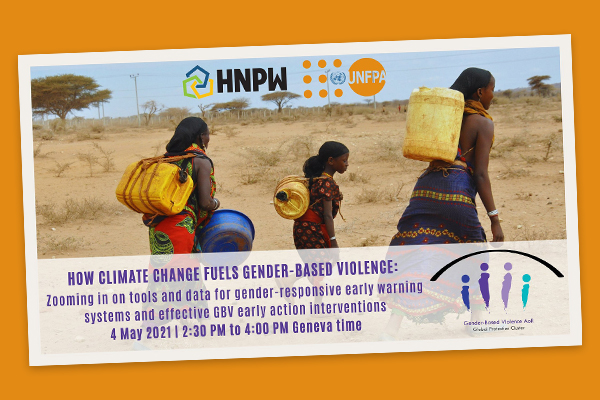 7 May 2021
The 7th Humanitarian Networks and Partnerships Weeks – jointly hosted by OCHA and the Swiss Agency for Development and Cooperation – ended online today after a three-week event covering nine priority topics, including the climate crisis and anticipatory action.
HNPW bring together thousands of people working in humanitarian preparedness and response and is one of the largest events of its kind.
This year's event, held virtually because of Covid, saw nearly 250 sessions on a broad range of topics, "ranging from civil-military coordination and access to Tigray, Ethiopia, to the international front-line response to the Beirut port explosions," the UN said.
HNPW was "a unique space for diverse humanitarian practitioners and experts, working in UN agencies, NGOs, governments, the Red Cross and Red Crescent Movement, academia, the military, and the private sector."
'Forecasts'
The virtual format provided "a unique opportunity for broader and more inclusive participation from around the world", the UN added; just over 7,000 people registered to take part.
IFRC Secretary General Jagan Chapagain told an HNPW session on anticipatory action that this had become "one of the main approaches to delivering our humanitarian mandate.
"Today anticipatory action is being developed by Red Cross Red Crescent National Societies in some 30 countries," he told the session entitled Strengthening synergy for a system-wide shift: anticipatory action in the nexus – one of 11 under the relevant priority topic at HNPW.
Mr Chapagain added that "forecasts have successfully triggered early action by communities in Peru, Togo, Uganda, Bangladesh, Mozambique, Ecuador and Mongolia…
"Anticipatory action," he said, "helps communities protects lives and livelihoods."
Greening
The session also heard presentations from three leading initiatives committed to supporting the scaling up of anticipatory action: the Anticipation Hub, the Risk-informed Early Action Partnership, and the Crisis Lookout Coalition.
An Anticipation Hub video presented highlighted five "key policy asks": better early warning and readiness at the local level; fast and pre-arranged funding; attention to a wider range of hazards; global coordination, learning and partnerships; and integration with national systems.
Expected outcomes from the HNPW priority topic on climate included clarity on what's meant by greening, project updates centred on adaptation in "humanitarian hotspots", nature-based solutions and a "climate and environment charter for humanitarian organizations," the UN said.
At HNPW the Climate Centre also presented the "quick-start, low-cost, do-it-yourself guide to urban resilience activities" that is its new Urban Action Kit, first launched in March.
The climate emergency is causing a rise in gender-based violence around the world, the 7th
Humanitarian Networks and Partnerships Weeks was told this week. The issue was one highlighted by the IFRC's Nena Stoiljkovic, Under Secretary General for Global Relations, Humanitarian Diplomacy and Digitalization at the HNPW closing ceremony today, along with the climate crisis, anticipatory action and the "humanitarian-development-peace nexus". (Image: UNFPA)