Leading Dutch meteorologist and Climate Centre partner Geert Jan van Oldenborgh wins major European science award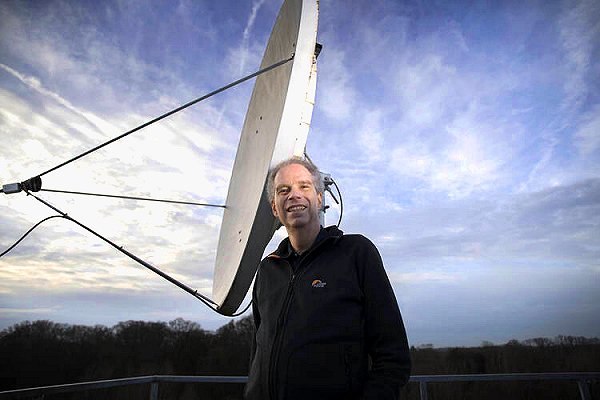 9 April 2021
Geert Jan van Oldenborgh, the Dutch meteorologist who developed the KNMI Climate Explorer and is a partner of the Climate Centre and World Weather Attribution, was yesterday chosen by the European Meteorological Society for its Technology Achievement Award 2021.
Climate Explorer "is an immensely useful application making high-quality climate data sets easily accessible, and uniquely allowing for direct climate analysis and education in a web browser environment," said an EMS press release.
Developed from 2000 after questions arose about the impacts of El Niño on the weather worldwide, the website provides accessible climate data in the form of observations, reconstructions and climate models.
"When I created the website more than 20 years ago, one of my goals was to give climate researchers all over the world access to climate data and analysis tools," said Van Oldenborgh yesterday.
"I am very happy that the Climate Explorer has succeeded in this; I also use the application almost every day for my own research."
'Geert Jan is indeed a hero
and an incredible scientist'
Thousands of users visit the website and use it to create about 3 million charts a year, the Royal Netherlands Meteorological Institute (KNMI by its Dutch acronym) said in its own statement on the award, which will be formally presented to Van Oldenborgh at a virtual ceremony in September.
"In addition to research into seasonal forecasts and climate change, the site is widely used in university education to interpret indirect clues, such as tree rings, about the changed climate, and to make climate projections.
"In recent years, [World Weather Attribution] researchers have also been using the site to investigate the relationship between extreme weather and climate change."
Climate Centre science colleagues of Geert Jan van Oldenborgh yesterday lined up to emphasize that the EMS award could not be more richly deserved.
"Geert Jan is indeed a hero and an incredible scientist," tweeted Erin Coughlan de Perez, its Manager, Climate Science. "Congrats on this well-deserved award and thankyou for the inspiration and mentorship over the years."
'Super-sharp'
Director Maarten van Aalst also thanked Van Oldenborgh for the "amazing Climate Explorer" and for "invaluable support" to the Climate Centre and others who use it.
Van Oldenborgh is "always super-sharp and committed to relevance, but with a great humour," he added, "enabling new insights and better decisions on changing risk as part of WWA studies."
Note to editors: The EMS is a network of meteorological associations such as the Dutch Association for the Promotion of Meteorology that recognizes "outstanding contributions to science, its applications and communication". Geert Jan van Oldenborgh. (KNMI file photo: Werry Crone)