Europe plants seeds for stronger adaptation to 'unavoidable' climate change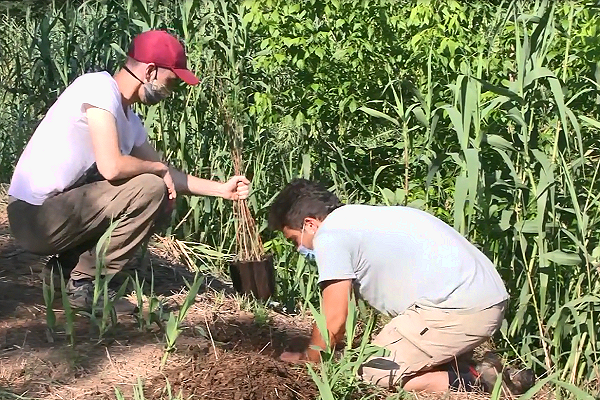 1 March 2021
The European Commission last week adopted a new strategy on adaptation which it says sets out "the pathway to prepare for the unavoidable impacts of climate change" in even the most optimistic scenarios for emissions.
"From deadly heatwaves and devastating droughts, to decimated forests and coastlines eroded by rising sea levels, climate change is already taking its toll in Europe and worldwide," a press release issued by the Commission Wednesday said.
The new strategy updates a 2013 version and proposes a shift "from understanding the problem to developing solutions, and a move from planning to implementation."
The Executive Vice-President for the European Green Deal, Frans Timmermans, said: "The Covid-19 pandemic has been a stark reminder that insufficient preparation can have dire consequences.
"There is no vaccine against the climate crisis, but we can still fight it and prepare for its unavoidable effects…
"The new climate adaptation strategy equips us to speed up and deepen preparations. If we get ready today we can still build a climate-resilient tomorrow.
'A "humanitarian-development-peace nexus"
to reach the most vulnerable,
conflict-prone or marginalized communities'
The Commission now puts average annual losses from increasing climate-related extreme weather at 12 billion euros in the EU, rising to at least €170 billion in a pessimistic 3°C global-warming scenario.
Climate change affects not only the economy, its statement says, but also the health and well-being of Europeans, who increasingly suffer from heatwaves, for example.
Climate Centre Director Maarten van Aalst – welcoming the new strategy and citing "strong synergies" with Movement thinking – said the Red Cross Red Crescent "stands ready to support its rapid implementation at scale, with a special focus on the most vulnerable in Europe and globally.
"We're especially encouraged by the Commission's view that international action on adaptation needs to be integrated into 'a humanitarian-development-peace nexus' to reach the most vulnerable, conflict-prone or marginalized communities, and leaving no one and no place behind," he told a high-level launch workshop session on Friday.
"Systemic approaches, like better disaster law, will help, as well as anticipation of disasters in humanitarian work, along with new financial instruments to enable local action. But we need them at scale – with no less than another Marshall Plan for a more resilient global recovery from Covid."
The European Commission says adaptation must be informed by data and risk-assessment tools available to all – "from families buying, building and renovating homes to businesses in coastal regions or farmers planning their crops."
Climate law
Climate-ADAPT, the European platform for adaptation knowledge, will be enhanced and expanded, and a dedicated health observatory will be added to reduce the health impacts of climate change.
The EU plans to promote "sub-national, national and regional approaches to adaptation," focusing on Africa and Small Island Developing States.
"We will increase support for international climate resilience and preparedness through the provision of resources [and] work with international partners to close the gap in international climate finance," the Commission says.
On climate impacts specifically in Europe, it adds, extremes now range from "unprecedented forest fires and heatwaves right above the Arctic Circle to devastating droughts in the Mediterranean region, and from hurricanes ravaging EU outermost regions to forests decimated by unprecedented bark beetle outbreaks in Central and Eastern Europe."
A proposed European climate law will integrate and incorporate the global goal on adaptation in the Paris Agreement and Sustainable Development Goal 13, and commit the EU to continuous progress on adaptation, assisted by the new strategy.
Project workers with Fundacio Emys plant saplings in Sequia de Sils, north-east Spain, in an EU-supported effort across three Mediterranean countries suffering from desertification. Traditional irrigation is replaced with low-cost, biodegradable planting pots that use much less water. The image was among those illustrating the European Commission's new adaptation strategy last week. (Video grab: European Commission)