A new operational checklist for greening the Movement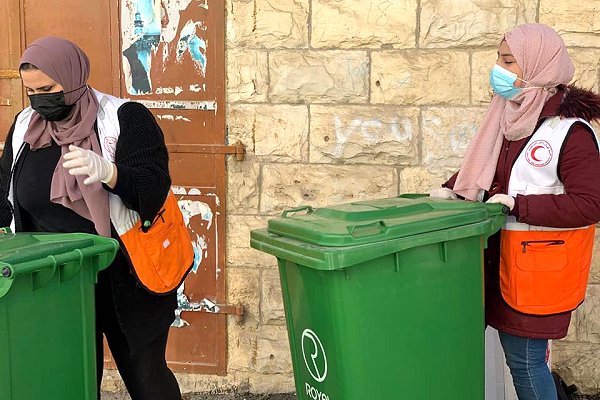 1 February 2021
The Red Cross Red Crescent has published a new checklist for greening the Movement, strengthening its environmental sustainability and supporting advocacy.
The Green Response Working Group (GRWG) – a coalition of National Societies, IFRC and ICRC representatives – last month released a new report, Red Goes Green, drawing on interviews across the Movement as well as with environmental experts and local humanitarian actors.
Its findings and recommendations were used to develop the checklist for Movement components and other agencies.
"Climate change and environmental degradation are increasing the world's vulnerability and exposure to risks, disproportionately impacting the most vulnerable communities," the report says, adding that "the humanitarian community has a responsibility to support vulnerable communities to increase their resilience to the impacts of the climate and environmental crises.
"Equally, humanitarian organizations have a responsibility to take a more serious approach to limit their own climate and environmental footprint and strengthening environmental sustainability…".
At least 40 people from 14 different Movement organizations were interviewed about their experience of institutional greening and sustainability, as well as experts from the UNEP/UNOCHA Joint Environment Unit, the World Wildlife Fund, Sweden's Royal Institute of Technology, and the Alliance for Empowering Partnership.
'All aspects of environmental sustainability
should be addressed, including environmental
impacts from programme delivery'
The report's conclusions include arguments that engaged leadership is more likely to generate sufficient resources, that people are more likely to be motivated if concepts are clearly defined, and that "dedicated, knowledgeable and empowered staff, formally tasked with driving implementation, is crucial".
But "change should not negatively impact the organization's ability to carry out its humanitarian mandate," it adds.
The report says: "It is not just about emissions. All aspects of environmental sustainability should be addressed, including the humanitarian supply chain and environmental impacts from programme delivery."
The IFRC secretariat and National Societies established the GRWG in 2014 to streamline green practices in humanitarian operations and extend "the 'do no harm' principle to the environment and ecosystems – on which the people we seek to assist often rely," according to the Red Cross EU Office website.
"It's a shift in mindset. We need to improve what we are already doing but also think differently", Swedish Red Cross Adviser Caroline Gårdestedt told a European Commission humanitarian conference in 2019.
The latest research was supported by the Swedish International Development Cooperation Agency and the Swedish Red Cross, which chairs the GRWG.
Young Palestine Red Crescent Society volunteers installing waster and recycling bins to maintain sanitation in the public and raise awareness on environmental issues. (Photo: PRCS via IFRC)