Any old iron? (Or mementos of today.) Climate Centre presents 2050 ­time-capsule project to D&C Days online audience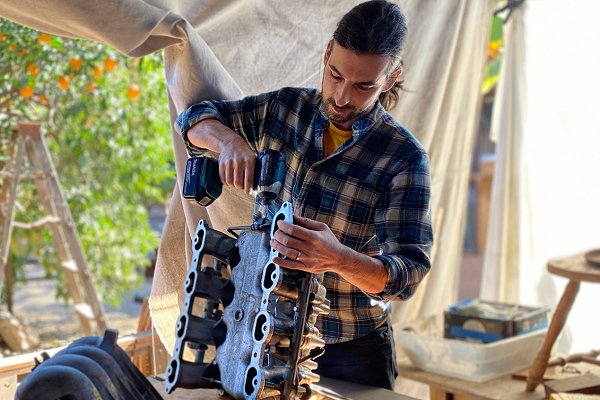 3 December 2020
The annual Development and Climate Days meeting was held virtually yesterday and today as one of two parallel events to the Understanding Risk Forum 2020, together with (on Friday) the Humanitarian OpenStreetMap Team Summit.
Through its customary "dynamic format that encourages dialogue on a range of issues that link policy, knowledge and practice for climate ambition," the two-day D&C Days brought together world experts and practitioners in disaster risk assessment and communication, organizers said,
It began Wednesday with the workshop Building for resilience: looking at the race for resilience and actions to COP 26 and beyond.
Facilitated by the UN Food and Agriculture Organization and the Global Resilience Partnership, it was led by UN Climate Champions Gonzalo Muñoz of Chile and Nigel Topping of the UK, who shared the fruits of the Race to Zero: November Dialogues on Resilience.
'Systemic risks'
Two further sessions yesterday added grass-roots and community voices into the D&C Days mix: in the first, eight leading women offered insights into building resilience and climate actions to influence policy; the second saw youth leaders share ideas for "radical steps for immediate action towards a resilient future".
Two sessions today covered the intersection of nature, climate and development – a widely shared narrative in the run-up to COP 26.
Reshaping a resilient future after Covid-19 was the focus of another virtual workshop that explored "the vulnerability of our global society to systemic risks," its organizers said.
"Learning from [the Covid-19] crisis is crucial," they added, "since it is a harbinger of a new global risk-landscape where events such as pandemics, financial crashes and food shocks spread more quickly and widely than ever before.
"Critically, this…is having disproportionate impacts on vulnerable and marginalized groups."
Biodiversity
One Climate Centre-led workshop was firmly focused on the future and invited D&C Days attendees to become Future Ancestors by contributing letters, drawings, poems and art works to a time capsule that will be housed at the Netherlands Red Cross in The Hague and opened in 2050.
It's being made by Los Angeles-based United Environment Architecture from old car engines (photo) as a homage to fading automotive technology and as a celebration of the growing culture of re-using and re-purposing.
The time capsule is the culmination of the Climate Centre's exploration of ways to enable people to break free of short-term decision-making that often fails to consider impacts and consequences; the deadline for submissions is 15 December.
A second Climate Centre workshop centred on "risk and candour" and reconciling words and actions amid "the insidiously pervasive nonsense cooking climate inaction".
A session on the loss of global biodiversity examined how this is "contributing to food insecurity, exacerbating climate change, destabilizing communities and affecting human health," said organizers, the International Institute for Environment and Development (IIED).
Other sessions focused on fallout from the Covid-19 pandemic, adaptation technologies and nature-based solutions to address risk.
This year's D&C Days event is a partnership of the Climate Centre, IIED and the Global Facility for Disaster Reduction and Recovery, together with EIT Climate-KIC, the FAO, the Global Commission on Adaptation, the Global Resilience Partnership, and the International Development Research Centre.
Designer Tada of Los Angeles-based United Environment Architecture works on discarded inlet manifolds to construct the time capsule that will be stored at the NLRC headquarters in The Hague and enable contributors to be Future Ancestors. The project was showcased at the two-day virtual D&C Days event. (Photo: UEA)