Be an engine of long-termism and a 'Future Ancestor'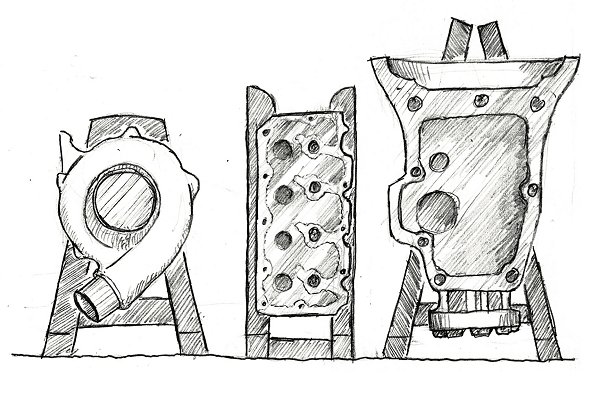 1 December 2020
The Climate Centre is this month inviting contributions (here) – letters, drawings, poems and art works – from around the world for a time capsule that will be housed at the Netherlands Red Cross in The Hague and opened in 2050.
The time capsule is made by Los Angeles-based United Environment Architecture from recycled internal combustion engines, "as a homage to a dying technology, and a celebration of the growing culture of reusing and re-purposing," said Project Manager Rebeka Ryvola.
"It's the culmination of the Climate Centre's exploration of ways to enable people and societies to break free of the short-term decision-making that dominates society today and often fails to consider impacts, consequences and relationships over the longer term."
                      'A cornucopia of stories, insights,
and advice for current and future generations'
Contributors to the time capsule will become 'Future Ancestors', Ryvola explained, and a central focus of the project is to ask: "What does it take to be a good ancestor, and how can we encourage individuals and society as a whole to make decisions with future generations in mind?"
The Climate Centre has been hosting a series of related dialogues "bringing a cornucopia of stories, insights, and advice for current generations and generations to come alike," Ryvola added.
"The dialogues themselves will make up some of the capsule contributions and also form the basis of a future Climate Centre podcast."
They have included thinkers and writers like Roman Krznaric, whose The Good Ancestor has been described as the "book our children's children will thank us for reading", youth climate leader Dainalyn Swaby, meteorologist Eric Holthaus, author of The Future Earth, and Rhoda Malgas, a lecturer in the Department of Conservation Ecology and Entomology at Stellenbosch University in South Africa.
'Human family'
Krznaric posits a meeting with a great-grandchild who will live into the twenty-second century. "What kind of world will they be living in?" he asks.
"How will they relate to their environment and the people around them, whether family or other members of the broader human family? What kind of relationship will they have with the living world?
"Can this idea help you imagine what message you might want to send to future generations?"
The deadline for submissions to the time capsule is 15 December.
A design sketch of components for the 2050 time capsule that will be stored at the NLRC headquarters in The Hague and enable contributors to be Future Ancestors. It's being made from discarded car engines by Los Angeles-based United Environment Architecture. (Image: UEA)