Opinion: Tackling the humanitarian impacts of the climate crisis together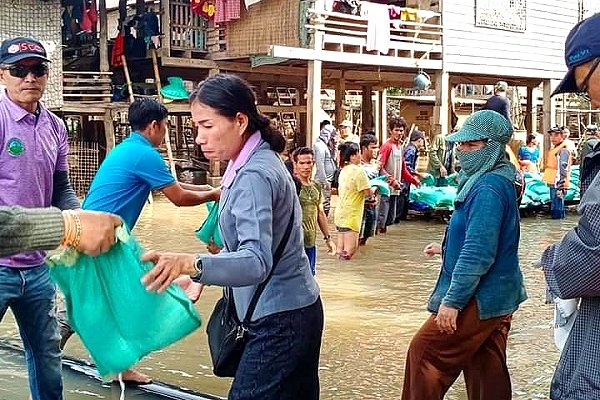 22 November 2020
(This story appeared first in the Bangkok Post last week and on the IFRC news site. It has been slightly edited here for time references.)
Imagine two neighbouring communities. One a wealthy neighbourhood next to a lake, its large houses surrounding a community hall that doubles as an evacuation centre. The other, a densely packed, low-income fishing village on the nearby harbour.
The weather has been strange lately: destructive typhoons are becoming more frequent; the winds are stronger; dangerous floods happen more often.
Given the increasing risk, the authorities announce that they'll take action to keep everyone safe. They decide to pay for a second evacuation centre in the wealthy suburb.
This is clearly a terrible decision. But scenarios like this are playing out every day in countries and communities most at risk from our changing climate.
Globally, 86 million people may be at risk of flooding by 2030, according to new research presented in the IFRC's World Disasters Report 2020. Asia is by far the most disaster-prone region in the world, experiencing around twice as many emergencies such as major floods and storms as the Americas or Africa.
We can expect the pandemic to have a serious impact
on resources. But this underlines the importance
of smart financing to reduce risks and promote adaptation
The study shows that of the 20 countries assessed as most vulnerable to climate change, and climate and weather-related disasters, including Afghanistan and the Solomon Islands in the Pacific, not one was among the 20 highest per-person recipients of climate adaptation funding, according to the Notre Dame Global Adaptation Initiative.
Bangladesh and Myanmar are only just ahead of the 20 countries most vulnerable to climate disasters, yet both have seen gains in recent years. In Bangladesh, investment in early action ahead of floods and cyclones is not only preventing death and injury but making it a little easier to recover from more destructive and frequent monsoonal flooding.
None of the five countries that spend the most on adaptation to climate change had "very high" – or even "high" – vulnerability scores. Not one was classed as "fragile".
At the other end of the funding spectrum, less than one US dollar per person is being made available for climate adaptation funding in five out the eight "very high" vulnerability countries, and 38 out of 60 countries deemed to be of "high" vulnerability.
This is the equivalent of putting the new evacuation centre by the lake, rather than making it accessible to the fishing community that is at high risk from storms and floods.
Shortfall
And all over the world, people are being left at risk because the resources required for adapting to climate disasters and reducing risks are not reaching the community level, where they are needed the most.
Urgent investment is needed now, if countries are to introduce necessary climate adaption measures that will protect communities and prevent the human and economic costs of disasters.
But how can we do this in the current economic situation? After all, looking just at the adaptation needs outlined in the nationally determined contributions of 50 developing countries, 50 billion US dollars is needed every year.
My worry is that this shortfall will continue to grow as governments and international donors concentrate on the ongoing pandemic.
But climate adaptation work can't take a back seat while the world is preoccupied with Covid-19. The two crises have to be tackled together.
And we have the opportunity to do this. The massive stimulus packages that are being developed around the world in response to Covid-19 are an opportunity to "build back better". We can build a green and adaptive recovery, using relevant funds to invest in making communities safer and more resilient to future disasters.
Human toll
We can expect the pandemic to have a serious impact on future resources. But this underlines the importance of smart financing to reduce disaster risks and promote climate adaptation in all communities exposed to hazards.
Climate change is an even more significant threat to humanity than the Covid-19 pandemic. It affects us all. Some countries in Asia and the Pacific are currently more exposed to climate risks than others, but we will all feel the impact eventually.
So we all have to adapt. We can start by putting resources at the disposal of the people who need it most. By protecting them, we give everyone a better chance of preventing the terrible human toll from storms, floods and fires that will affect us all.
The storms and intense rain that recently affected Vietnam also brought heavy rainfall that caused flooding and landslides in southern Laos (photo), with the provinces of Salawan, Savannakhet and Sekong the worst affected, the Laos Red Cross reported. The National Society was conducting needs assessments and distributing relief kits and hygiene items; safe water was being provided through mobile water-purification units. (Photo: Laos Red Cross via IFRC)