'Big risk, little time' – an interview with Professor Maarten van Aalst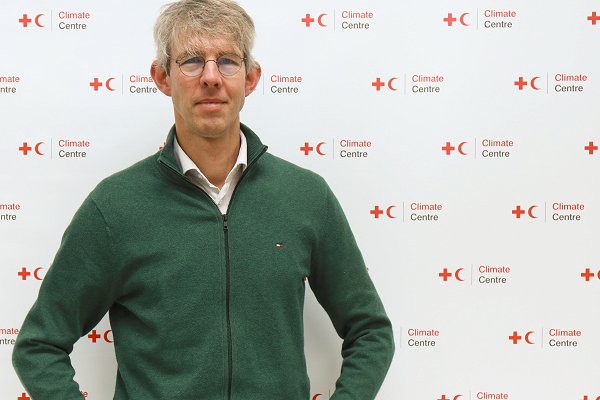 16 November 2020
(A full version of this article appeared earlier this month in the online magazine of FMO, the Netherlands Entrepreneurial Development Bank. The IFRC's World Disasters Report 2020 focuses on global efforts to tackle climate change and is out tomorrow Tuesday.)
"Often science can be too abstract and large-scale, when what we need is research that can be understood and useful to people on the front line. So a lot of our work involves trying to bridge those divides." As an example, Climate Centre Director Maarten van Aalst cites the work one of his PhD students is doing on improving early-warning climate systems in conflict settings.
Another question is how to leverage scientific advancements. For example, satellite-informed weather predictions have improved enormously in recent decades, which means forecasts have also improved, even in places with no adequate weather stations. "So we're looking at how we can use this to improve modelling and provide relevant data that informs practical action on the ground."
Maarten argues that current systems for social security are "largely poverty-driven: if a farmer drops under a set poverty line due to a bad harvest, he then gets supported.
"But why wait for the bad harvest before giving the pay-out? If we can predict extreme weather…wouldn't it be smarter to pay out to the farmer beforehand so he can prepare."
Heatwaves
Today, nearly all weather-related natural disasters are to varying degrees predictable, and yet a further area is forecast-based financing – now a standard component of relief work and the international Red Cross Red Crescent has such financing systems in place or being developed in 35 countries.
"The countries where these disasters are most likely to occur are also often the poorest. So part of my work is to consider which available forecasts are most relevant. This is often about translating a weather forecast into an impact forecast, which combines meteorological data with what we know about the vulnerability of people in those areas."
One disaster risk where Maarten feels awareness is lacking is heatwaves, a global trend rising even more rapidly than models are predicting.
"We can say almost with certainty that events in Siberia this summer, with both a terrible heatwave and wildfires, for example, wouldn't have happened without climate change…
"And this year's major wildfires in California and bushfires in Australia were also more likely due to climate change. Heat is a highly underestimated risk factor with major negative social and economic impacts."
'Investment risk'
Maarten believes the sort of knowledge acquired by humanitarian organizations is also invaluable to companies and investors. "We need to join forces to understand and address the risks together.
In the developing world in particular, we're building cities with no regard for disaster risk, and therefore literally constructing risks in front of own eyes.
"In the end, there's a pretty close alignment between the sorts of investment risk-assessments needed by a company looking at the bottom line, a development bank looking to make profits while addressing poverty, and the Red Cross Red Crescent looking to keep people safe."
Who does he think needs to step up if we're to hit the climate-related SDGs by 2030? "When it comes to climate change, I'm worried there's too much global talk and too little action.
"The private sector needs to step up but can't be expected to do it alone. In FMO's own backyard in the Netherlands, a centuries-old system of polders [reclaimed land protected by dikes] delivers living space, but also unparalleled agricultural productivity…
"Just that sort of collective public investment needs to occur alongside growing companies and economies."
'We're looking at how we can use forecasts
to improve modelling and provide data
that informs practical action on the ground'
Maarten sees coronavirus affecting the climate change agenda in various ways. First, by moving climate issues from centre stage and slightly reducing the sense of urgency.
In addition, practical barriers due to Covid-19 mean key international meetings, such as the Glasgow UN negotiating round, have been postponed.
Thirdly, the huge economic setback has reduced the capacity to invest in climate-related solutions, but also makes the most vulnerable people even more vulnerable…
"We recently published a paper showing that already some 50 million people have been affected by climate-related events and COVID-19. For example, with the recent typhoon in India we not only had to evacuate people, but do so while maintaining social distancing"
Maarten believes reduced economic growth and air transport are only temporary dips unlikely to affect the trends. But at the very moment governments worldwide are investing some US$ 13 trillion in rebuilding economies, the question is whether they'll make those economies more resilient, cleaner and more inclusive.
But despite his considerable misgivings, Maarten ends on a positive note "What really gives me hope is the younger generation. And how climate change is now perceived very differently from ten years ago…I just hope that realization will be turned into action quickly enough. Because we have very little time to lose."
Climate Centre Director Professor Maarten van Aalst. (Photo: Netherlands Red Cross)