Report: Support people most vulnerable to disasters to understand (and insure against) risk better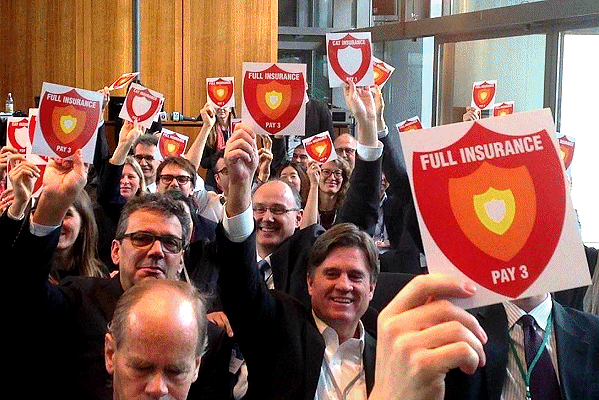 23 October 2020
The Insurance Development Forum (IDF), a partnership led by the insurance industry and supported by the UN, the World Bank, NGOs and other international organizations, this week called for renewed international collaboration to boost capabilities in the understanding of disaster risk where it's needed the most.
An IDF white paper – The Development Impact of Risk Analytics – demonstrates how "risk modelling principles and frameworks can help countries and cities integrate invaluable local knowledge with global research," an IDF press release said Tuesday.
This would enable them to "develop their own view of risk for strategic risk management and operational risk finance" – a capacity it argues is "critical as vulnerable economies seek to build social, environmental and financial resilience in the face of increased climate risk, pandemic and other threats."
                                The private sector has developed
                            risk understanding as a 'survival skill'
The paper includes recommendations for ways of improving understanding of risk "through public, private and academic collaborations [through] open-source platforms and data standards."
The private sector has developed risk understanding as a "survival skill", it adds, and stands ready to work with governments, donors and humanitarians in "strategic risk prevention, residual risk-transfer and anticipatory action."
Nick Moody, the report editor and a member of the IDF's specialist risk-modelling group, said Tuesday: "Our subjective personal experience and observations will always be a factor in complex decision-making, and we all know that no model will ever be completely correct.
"However the practice of integrating local and global research and openly sharing assumptions reduces uncertainty and, frankly, fear.
"It builds the confidence so essential for attracting investment in resilience. This means that risk understanding should not be the privilege of the few…the methodologies, research sources and open source technology already exist [but] we need to make risk knowledge accessible where it is needed the most."
'Barriers'
Jan Kellett, UNDP Special Adviser, added that people are "understandably keen to move from aid dependency to sustainable local capacity, capable of responding to the differentiated needs of communities, genders and vulnerable groups."
But this was difficult "while barriers remain to building local risk understanding, and to integration of local experience and research."
She added that the new IDF paper shows how "cross-sector collaboration, open standards and enabling technology can harness these strengths for public good and economic development."
Participants role-playing as policy advisers hold up placards during a game on insurance choices run by the Climate Centre at COP 23 in 2017. The insurance sector wants to partner with humanitarians to help vulnerable countries understand risk better…and insure against it. (Library photo: Laurie Goering/Thomson Reuters Foundation.)