'When it comes to climate change and risk, we're all on the front line'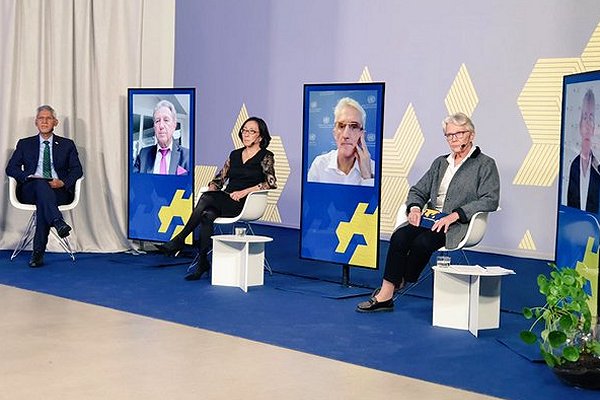 23 October 2020
Sweden earlier this week detailed two new climate-related initiatives intended to increase the resilience of the most vulnerable people faced with intensifying climate impacts in Africa, one centred on early warning early action.
The Swedish Minister for International Development Cooperation, Peter Eriksson, said his government was providing the International Fund for Agricultural Development with "an additional 20 million krona [US$ 2.2m]", and supporting a new Horn of Africa Partnership to address flood and drought risk with "the critical work" of East Africa's IGAD Climate Prediction and Applications Centre.
He was speaking in an opening address at the Stockholm virtual high-level meeting on the humanitarian impacts of climate change – 'Anticipate and Act' – jointly hosted by the Swedish government, the United Nations Office for Disaster Risk Reduction (UNDRR), and the World Food Programme (WFP), in collaboration with the Swedish Red Cross (full recording).
The Swedish initiative for the Horn "will now establish a cell in Nairobi", Mr Eriksson added, and in the longer term aimed "to operationalize an early-warning system in the Horn of Africa – a small step, but also important.
"Now many more actors need to step up and step forward. Now is the time for action."
Merging science with local knowledge 'is the way to walk the talk, really'
At least 600 people worldwide registered to join Anticipate and Act, which was coordinated from a Covid-safe studio in Stockholm, sending questions and comments to speakers on two panels, covering food insecurity and risk.
The all-afternoon event was moderated by Climate Centre Director Maarten van Aalst and included cartoons drawn in real time highlighting key discussion points.
The opening session – Why humanitarians need to address climate change – aimed to clarify how the global climate crisis "is increasingly exacerbating the humanitarian situation in various parts of the world," organizers said, and discussed "why inaction could prove to be the costliest approach".
It also included David Beasley, Executive Director of the World Food Programme, recently awarded the Nobel Peace Prize, and Mami Mizutori, Special Representative of the Secretary-General for Disaster Risk Reduction and Head of UNDRR, who described climate as "the greatest risk amplifier ever…if we can't tackle climate change we can't tackle disaster risk reduction."
She drew attention to what she said were three other important realities facing the humanitarian community today: the ability of risk to "undo development", the vicious circle of "disaster, response, recovery, repeat", and the advent of Covid-19 as a global "systemic risk". 
Food insecurity
The first of the two high-level panels centred on worsening food insecurity "as a consequence of climate change", especially in the Horn of Africa, and also included insights from Maria Helena Semedo, Deputy Director-General of the UN Food and Agriculture Organisation, Janez Lenarcic, European Commissioner for Crisis Management, and Lina El-Sheikh, Minister of Labour and Social Development in the Sudan – a country now suffering floods that have been described as unprecedented.
"When it comes to climate change and risk, we're all on the front line," said the President of the Swedish Red Cross, Margareta Wahlström, speaking on the second of Anticipate and Act's high-level panels.
She called on every organization in the sector to "take upon itself" its own responsibility for reducing emissions.
Noting that she first heard prevention is better than cure in 1984, Ms Wahlström said: "We know what's coming; the science is clear; why aren't we using it better? What are the constraints?"
Global decision-makers, she added, needed the sector's help "to get the right balance between their necessary political agenda and what needs to be done".
IFRC Secretary general Jagan Chapagain said the "lofty goals" of Sendai and Paris would not be achieved unless the international community "walks the talk". That meant above all "empowering local communities to take charge…they know what to do before the monsoon season comes [for example], they know what to do when signs of drought appear", but they also need partnerships which are "not bureaucratic, not costly," but built on "local values, traditions, systems and knowledge".
Merging science with local knowledge and traditions "is the way to walk the talk, really", he argued.
Two more important commitments he made on behalf of the IFRC were to increase investment in anticipatory action, and to "bring the humanitarian, development and climate agendas together" to break down silos and for greater impact in the field.
'No vaccine'
Also appearing on the second panel were Mark Lowcock, UN Under-Secretary-General for Humanitarian Affairs, and Norbert Barthle, Parliamentary State Secretary at Germany's Federal Ministry for Economic Cooperation and Development.
Wrapping up alongside Per Olsson Fridh, Sweden's Deputy Minister for International Development Cooperation, Maarten van Aalst said it was paradoxical that holding the meeting virtually had actually allowed many more people to take part than with a physical event.
He recalled the recent Climate:Red Summit hosted by the IFRC and attended remotely by some 10,000 people in every country of the world that had also saved at least 100,000 tonnes of carbon emissions, echoing several speakers who said acting on climate change also "starts with reducing our own emissions".
Walking the talk across the full climate agenda, however, also meant taking Antipate and Act out into the world through the humanitarian work of all of the organizations represented, especially to communities on the front lines of rising risks.
Echoing Jagan Chapagain, in a time of Covid, he said, "there is no vaccine for the climate crisis".
A panel at the virtual high-level meeting on the humanitarian impacts of climate change, coordinated from Stockholm this week with (L to R) Jagan Chapagain, Norbert Barthle, Mami Mizutori, Mark Lowcock, Margareta Wahlström, and Climate Centre Director Maarten van Aalst, who moderated throughout. (Photo: Knud Falk/Climate Centre)