report emphasizes need to 'move from early warning to early action'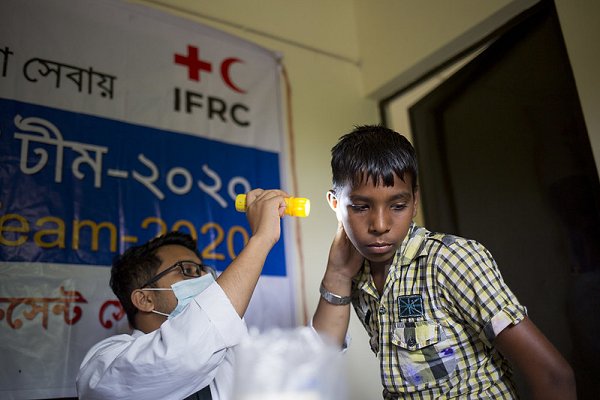 14 October 2020
One in three people globally are still not adequately covered by early-warning systems, despite extreme weather and climate events increasing "in frequency, intensity and severity as result of climate change", the World Meteorological Organization and its partners said yesterday in a new report.  
2020 State of Climate Services, issued to coincide with the International Day for Disaster Risk Reduction, quotes the IFRC's own analysis of climate impacts as saying that 108 million people required help from the international humanitarian system after storms, floods, droughts and wildfires in 2018, but by 2030 that number could increase by almost 50 per cent, costing US$ 20 billion a year.
The WMO-coordinated report "identifies where and how governments can invest in effective early-warning systems that strengthen countries' resilience to multiple weather, climate and water-related hazards and provides successful examples."
The 2020 edition "stresses the need to switch to impact-based forecasting" of what weather will do rather than just what it will be, and also analyses "how to strengthen protection for the most vulnerable, including through mechanisms such as the Climate Risk and Early Warning Systems initiative," which provided funding for it together with l'Agence Francaise de Développement.
Early assistance 'before winter conditions
reached their most extreme…
reduced livestock mortality by up to half'
The 2020 State of Climate Services report contains 16 case studies, including several with Red Cross Red Crescent engagement, of successful early warning of storms, floods, droughts, heatwaves, forest fires, sand and dust storms, locust swarms, severe winters, and glacial-lake outbursts.
The forecast-based financing (FbF) approach implemented by WFP and the Bangladesh Red Crescent Society (photo) "has created many benefits for flood-affected households," it says in one.
It notes FbF has been activated four times ahead of floods in Bangladesh, most recently earlier this year for more than 300,000 vulnerable people, supported with early actions such as cash transfers, agricultural inputs, and health kits for vulnerable girls and women.
Successes in Mozambique after Idai last year "included accurate cyclone forecasting and collaboration between the disaster management authorities, the Red Cross, and community structures in communicating warnings."
However, "nobody expected a storm of such magnitude," the report adds, and loss of life and damage could have been reduced with better flood forecasting and improved warnings of expected impacts with specific actions.
Cyclone Idai had demonstrated the growing need for development of impact-based forecasting, it concludes.
'Right time'
Over the northern winter of 2017–18, the UN Food and Agriculture Organization and the Mongolian government acted quickly to support just over 1,000 vulnerable herders families living on the outskirts of Ulaanbaatar, largely through destocking.
"This saved the households a precious US$ 32 over…more than two months when finances were especially stretched," says 2020 State of Climate Services.
The Mongolian Red Cross also provided 2,500 herder families with cash and emergency livestock kits, and a study showed this early assistance "before winter conditions reached their most extreme…effectively reduced livestock mortality by up to 50 per cent and increased offspring survival".
WMO Secretary-General Professor Petteri Taalas said yesterday: "Early-warning systems constitute a prerequisite for effective disaster risk reduction and climate change adaptation.
"Being prepared and able to react at the right time, in the right place, can save many lives and protect the livelihoods of communities everywhere.
"While Covid-19 generated a large international health and economic crisis from which it will take years to recover, it is crucial to remember that climate change will continue to pose an ongoing and increasing threat to human lives, ecosystems, economies and societies for centuries to come."
'Investment'
The launch event for the report in Geneva was attended by the IFRC Under Secretary General for National Society Development and Operations Coordination, Xavier Castellanos, who commended the WMO for the effort "to better understand progress and gaps in risk information and early warning".
He said the most significant recommendation was to "focus investment on turning early-warning information into early action through improved communication and preparedness planning".
The IFRC had been "pleased to see the emphasis on impact-based forecasting and forecast-based financing…We can and we will do more, and reach further, to make anticipation our new normal."
The 2020 State of Climate Services report was coordinated by WMO with input from 16 international organizations including the IFRC and the Risk-informed Early Action Partnership.
Bangladesh Red Crescent medical teams providing medical treatment to people in Sirajganj after a flood event considered to be one of the longest of recent decades, affecting more than half the country's 64 districts. A new inter-agency report on climate services says the IFRC, the UK Met Office and the World Food Programme "have been leading efforts to strengthen early-warning systems and scale up early action" in support of government's such as Bangladesh's. (Photo: BDRCS)