Blog: Asia-Pacific youth are the 'disaster representatives in their communities and have the tools to help'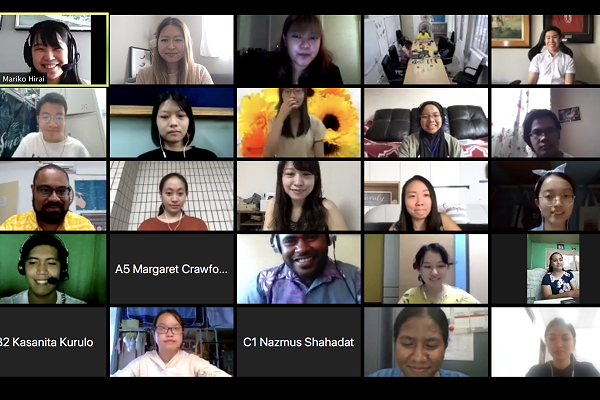 5 October 2020
"During the Covid-19 lockdown and social distancing, awareness programmes on climate change were put on hold," says Astrid, a young Red Cross volunteer from Samoa. "With lockdown easing a bit, we have restarted our awareness work for climate risk management and disaster programming."
Astrid is concerned about being able to continue focusing on climate through the pandemic; so is Hansel Vatuinaruku, among the 70 per cent of Fiji Red Cross volunteers who are young people. 
"Youth in Fiji think it is their job to spread awareness about disaster risk reduction," said Hansel. "Young volunteers here are in the front line and are the first responders. They are the disaster representatives in their communities and have the tools to help people."
'Energy'
Astrid and Hansel shared their experiences late last month at a virtual Asia-Pacific youth cafe organized by the IFRC Asia-Pacific regional office (photo).
"This virtual event feeds into the Red Cross Red Crescent Movement Climate Youth Strategy 2021–25 launched by the IFRC and the Youth Commission at the Climate:Red Summit," said Brigitte Rudram, Technical Adviser on youth at the Climate Centre.
"The aim of this strategy is to channel young energy around the world to address the changing climate," she added.
The animated conversations at the cafe touched on several relevant issues, like the young not being at the top tables on decision-making, and the impacts on them of lockdown.
Older generation
"Young volunteers did give psychosocial support to people during the pandemic," said Han Yu from China.
Vivian, also from China, added that the destruction caused by climate-related disasters has a significant impact on people's mental health, so giving psychosocial support was a skill young volunteers could usefully learn.
"Building our capacity on climate change is a key activity of the Bangladesh Red Crescent because the majority of volunteers are youth," said Nazmus Shahadad.
The young also played a key role in educating the older generation who are not always as aware of climate change issues.
The pandemic is definitely not diluting the passion of young volunteers to contribute to climate risk reduction. At the end of the cafe, the chair of the Red Cross Pacific Youth Network, Epeli Lesuma, said: "We will reach out for assistance to support our climate-related programmes."
The recent virtual cafe held for Asia-Pacific youth showed the passion of the young on climate is not being diluted by the Covid-19 pandemic. (Image: IFRC)