Climate change (and some KMs from the ICRC) in 8 cartoons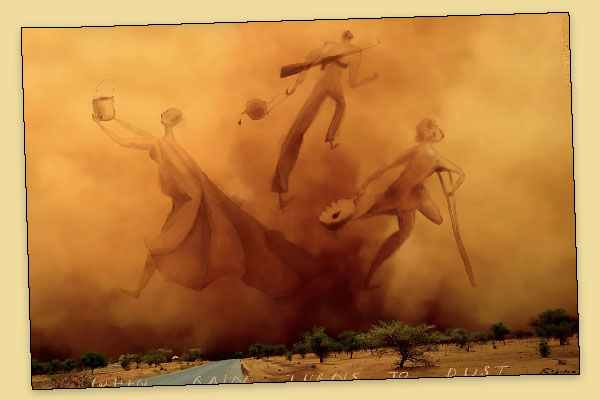 28 September 2020
Key messages from the ICRC's recent report on conflict and climate, When Rain Turns to Dust, featured at last week's VICE Creators Summit: Climate Uprise, where "cartoonists, humanitarians, young artists, and activists came together [to inject] humour into the climate change debate to get people thinking, talking, and creating," organizers said.
Artists from Cartoon Collections, they added, "brought to life key messages" from the ICRC report, which said countries affected by conflict are disproportionately impacted by climate change, pushing people out of their homes, disrupting food production, aggravating disease, and weakening health care.
The Climate Centre designed and facilitated a session convening humanitarians, journalists, and cartoonists.
A web news story Friday by VICE Asia staff said people affected by both conflict and climate were "also among those most neglected by climate action."
                                       'Growing climate risks threaten lives,
                                       physical and mental health,
                                       and food and economic security'
Global efforts to limit climate change were "essential for averting the most disastrous consequences for people and their environment."
The VICE story adds: "The time to act is now. Climate disruption affects populations across the globe and will continue to do so increasingly. Growing climate risks threaten lives, physical and mental health, and food and economic security.
"Conflicts, like climate change, are unfair. They increase vulnerabilities and expose people to injuries, diseases, malnutrition, and displacement, while severely compromising health services."
The story also quotes the IFRC's Cost of Doing Nothing report as saying that by 2050, some 200 million people a year could need international humanitarian aid from a combination of climate-related disaster and the socioeconomic impact of climate change – nearly double the current number.
Walter Cotte, IFRC Regional Director for the Americas, told a session at the recent Climate:Red Summit: "There are many ways to serve. But maybe one good way is to use cartoons that are a very creative and dynamic way to influence humanitarian public opinion."
What happens when the water dries up? More than half the world's population is expected to be living in water-stressed regions by 2050, according to UN-Water – a danger illustrated in this cartoon by Rebeka Ryvola. (Image: Cartoon Collections)