Solomon Islands early-action rainfall workshop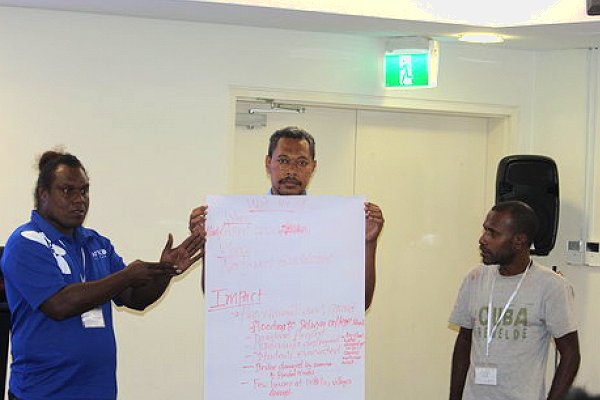 23 September 2020
The Climate Centre earlier this month remotely contributed technical and humanitarian input at a two-day training workshop in the Solomon Islands capital, Honiara, on the interpretation of forecasts in the Pacific Early Action Rainfall Watch system.
The workshop was "the first of its kind for the Met Service to engage partners from NGOs working with people with disabilities and women's groups," said David Hiba, Director of the Solomon Islands National Meteorological Services, in opening remarks.
"It's great to hear from them on how we can tailor EAR Watch information to suit their needs and the people within their networks."
The workshop, from 7–8 September, covered sub-seasonal, monthly and seasonal forecasts and others for extreme rainfall, as well as information about potential impacts; on crops, for example.
It was organized by the Solomon Islands National Meteorological Services with assistance from the Climate and Oceans Support Program in the Pacific (COSPPac), funded by Australia, and the Secretariat of the Pacific Regional Environment Programme (SPREP), and it was also supported by the French Red Cross, World Vision, the Australian Pacific Climate Partnership, and COSPPac.
Secondary impacts?
A news story on the SPREP website described the sessions' main goal as helping "participants understand and interpret the EAR Watch bulletin, as well as identifying appropriate traditional and local drought preparedness and coping strategies to provide additional guidance…".
It had been able to identify the varying needs of different social groups within communities – such as women, youth, and people with disabilities, according to Lloyd Tahani, Deputy Director of the Solomon Islands Met Service.
EAR Watch provides information on observed rainfall over 12 months and predictions for the next three to help agencies prepare for prolonged wet or dry periods that could trigger secondary impacts such as water-borne disease.
The system has now been replicated in (alphabetically) the Cook Islands, Fiji, Kiribati, Papua New Guinea, Samoa, Tuvalu and Vanuatu, SPREP reported.
Participants at this month's Solomon Islands workshop on the interpretation of forecasts in the Early Action Rainfall Watch (EAR) system. (Photo: SPREP)