Opinion: No choice but to address humanitarian impacts of Covid and climate at the same time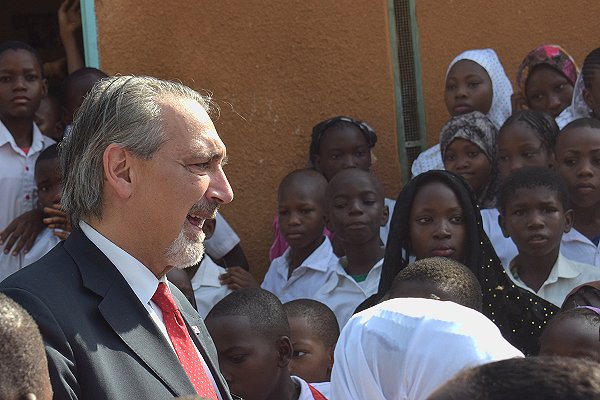 21 September 2020
(This contribution from IFRC President Francesco Rocca first aired on Al Jazeera English on Saturday. It has been slightly edited here for length.)
TWENTY-TWENTY HAS been a very unusual and challenging year for all of us. Covid-19 has held us in a strong grip and it's not letting go, IFRC President Francesco Rocca said Saturday in an interview with Climate:Red Summit partners Al Jazeera (English).
Unfortunately, the focus on Covid-19 has come at high cost for other issues such as the climate crisis, which has been pushed from the headlines of our daily lives. But we cannot afford to ignore the climate crisis for the duration of the pandemic.
Cyclones in the Pacific, typhoons in Asia, hurricanes in America, heatwaves and wildfire in Europe and California, floods in East Africa; I could go on. The devastating impacts on lives and livelihoods are still rising and are hitting hard in places also affected by coronavirus.
Like climate change Covid-19 affects everyone: vulnerable people living in disaster-prone areas, migrants and refugees are hit hardest. They are more exposed to infections; they are less able to access healthcare and they're deeply impacted by the loss of income. They must not be forgotten.
We have no choice but to address the humanitarian impacts of Covid-19 and the climate crisis at the same time.
We have a rare opportunity to make
a real difference to the climate crisis
as we seek to recover from the health
and economic impacts of Covid-19
And as Covid-19 spreads and infections rise, so do the impacts of the climate crisis. Our analysis has found that in 2019, there were 235 disasters triggered by climate and weather-related events, with 94.7 million people affected by those disasters; and these numbers are rising.
And while in the 1960s, 67 per cent of reported disasters were climate- and weather- related, this proportion increased to 83 per cent in the past decade.
Over the past ten years, there have been 2,850 disasters triggered by natural hazards where ten or more people were killed and 100 or more people were affected.
In New York in 2019, just before the UN climate summit, I presented the IFRC analysis of the humanitarian costs of the climate crisis in the next decades – The Cost of Doing Nothing report. It found that by 2050, 200 million people a year could need international humanitarian aid as the result of a cruel combination of climate-related disaster and the socioeconomic impact of climate change.
This is nearly twice the estimated 108 million people who need help today from international humanitarian system because of floods, storms, drought and wildfires.
By 2030 the international humanitarian aid required could balloon to US$ 20 billion a year.
So while there is a clear cost of doing nothing, there is also a chance to do something. We cannot, of course, prevent storms, cyclones, heatwaves, and other climate or weather-related hazards from happening.
But we can do something about the impacts they have. And this is where the role of the IFRC and our partners, of course, is so crucial.
Decisions
It is crucial to invest in climate adaptation and to build resilience in the communities, countries and regions at risk. And even if we were to cut our emissions to zero tomorrow, the world would continue to warm for decades and sea levels to rise for centuries. Therefore, as well as mitigating climate change, adapting to it is indispensable.
We have a rare opportunity to make a real difference to the climate crisis as we seek to recover from the health and economic impacts of Covid-19.
Right now, we are seeing an unprecedented investment of over US$ 10 trillion to counter the pandemic's economic impacts and safeguard our jobs and economic growth in the years to come.
We have to make sure that these investments are green and resilient, and that they safeguard the world's most vulnerable communities.
The decisions made today about how we invest in our economic recovery will determine whether we can be optimistic about our future, or whether we need to prepare for the unhappy projections in the Cost of Doing Nothing report.
Francesco Rocca in 2018 visits a kindergarten and primary school built by the Niger Red Cross with support from his own National Society, the Italian Red Cross. Niger is one country which is currently suffering a major climate-related disaster in the shape of seasonal floods that are reported to have left 45 people dead and displaced hundreds of thousands. (Library photo: Moustapha Diallo/IFRC)