Opinion: Red Cross Red Crescent makes history with global virtual climate summit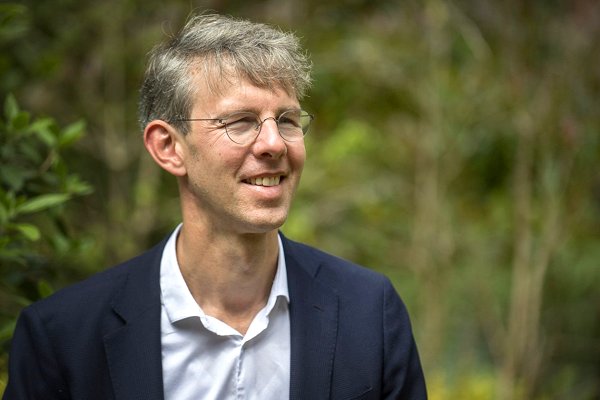 9 September 2020
By Maarten Van Aalst, Climate Centre Director
IT'S PERHAPS a bit of a cliché to call something historic almost before it begins, but this is surely an apt description of the virtual, multilingual Climate:Red summit that gets underway today, hosted by the IFRC, and that is also open to the public.
Over 8,000 people from almost all the countries of the world registered to take part in the event, whose VIP line-up includes Britain's Prince Charles, Sheikh Hasina, the Prime Minister of Bangladesh, Mary Robinson, Former President of Ireland, Casten Nemra, Marshall Islands Foreign Minister, Michael Köhler, ECHO Deputy Director-General, Krista Mikkonen, Finland's Environment Minister, and many others.
I also look forward to the virtual coffee breaks with random participants from around the world – including perhaps the local volunteers I have met over the years in Vanuatu, the Philippines, Uganda or Colombia, for instance.
The 30-hour Climate:Red – the summit that is "happening everywhere" – spans all the world's time zones, and in a Red Cross Red Crescent context it is by far the largest group of people who have ever gathered to discuss a single subject.
It assuredly reflects the fact that Red Cross Red Crescent leaders last year put climate at the top of a list of five global challenges for its humanitarian work in the next decade; this summit translates that commitment into action everywhere, by a wide range of volunteers, staff and partners around the world.
For me personally and for Climate Centre, the reference centre on climate that I now lead, it also represents the culmination of a 20-year period that we usually date from 1999. In that year, the 27th International Conference of the Red Cross and Red Crescent – the formal gathering of the Movement and all states party to the Geneva Conventions – first explicitly asked about the implications of climate change for humanitarian action.
The Netherlands Red Cross and my visionary predecessor, Madeleen Helmer, picked up the task of responding to this question, which also led to the 2002 establishment of the Climate Centre, jointly with the IFRC, by Princess Margriet of the Netherlands, who is appropriately on the summit's closing panel.
The Red Cross Red Crescent's
resolve strengthened at
successive quadrennial conferences
Our analysis, to which I contributed as a climate science PhD student at the time – a volunteer in the best Movement tradition – was delivered to the 2003 International Conference, called Preparedness for Climate Change.
The Red Cross Red Crescent's resolve strengthened at successive quadrennial conferences, leading to last year's joint virtual hook-up between COP 25 in Madrid and the 33rd International Conference, aimed at "raising ambition for greater action to address the humanitarian impacts of climate change", as we reported at the time.
The Climate:Red summit also builds on the momentum generated last year by the major global conference on climate and health organized by the French Red Cross in Cannes, described then as "the first humanitarian COP", that was also timed to commemorate the centenary of the IFRC.
And we have welcomed the intensifying engagement of, and collaboration with, our colleagues at the International Committee of the Red Cross, whose own work shows that countries affected by conflict "are also disproportionately impacted by climate change – a double threat that pushes people out of their homes, disrupts food production, cuts off supplies, amplifies diseases and weakens healthcare services".
Of course that growth in our own ambition went alongside an international journey in science, policy and practice, and a key moment there was, of course, the Paris Agreement in 2015, with the ongoing hard work to implement it.
Along the way, adaptation became a much more central part of the climate discussions, and now the realization that we are already confronting loss and damage from climate impacts – a reality all too familiar to humanitarians.
I'm proud of how we have been able to contribute to these discussions, also through the advances in science. The 2012 SREX report was a landmark we had called for that reflected the increased scientific focus on extremes and disasters, which continues to be a focus in subsequent assessments to which we are still contributing.
This interface with science also includes the ability to identify the climate footprint in individual disasters, including through the World Weather Attribution consortium, for instance, which found a tripling of the risk of Hurricane Harvey's flooding in Houston, Texas that resulted in US$ 100 billion in damages.
An international journey in science,
policy and practice
Also heatwaves, where the risk is rising rapidly. In Europe for instance, the 2003 heatwave led to more than 70,000 deaths; even by that time the risk had already doubled and it's still rising fast.
We've made great progress in reducing impacts through better heatwave plans in Europe, but we still have a long way to go; there were 650 excess deaths from heat just in the Netherlands recently, for example.
But the actions needed are often simple, like making sure elderly people suffering from the heat drink enough water – a task that requires people within communities simply to look after one another.
And indeed our advances haven't just been in policy or science. We've made great practical progress addressing the increased volatility of weather around the world, especially by improved anticipation across timescales, from evacuations hours or days before a storm hits to long-term risk reduction.
The many sessions on anticipatory action at Climate:Red are a testament to this tremendous progress, including with our great partners at the Anticipation Hub and in the REAP partnership – truly linking global climate ambitions with practical humanitarian action.
Another example is the rapid scaling-up of nature-based solutions, where our Partners for Resilience alliance brought together actors from different sectors, not just at the global level but especially nationally and locally.
This generated better livelihoods for farmers affected by uncertain rainfall, helping urban communities affected by flooding and working with small companies to increase business preparedness in the face of rising risks.
But if Climate:Red provides an opportunity to look back at recent history – allowing ourselves a moment of rejoicing at an advocacy mountain successfully scaled – it also demands we look forward to assess prospects for the next few decades; here things look markedly bleaker.
The rate at which humanity is pumping carbon into the atmosphere shows little sign of falling, even despite the global economic slowdown triggered by Covid-19; this also despite the genuine efforts of many governments to move toward carbon neutrality.
The impact of this on disaster risk is impossible to quantify exactly with a single neat datum. But the IFRC has warned that the "cost of doing nothing" on climate will be that people needing humanitarian assistance every year as a result of climate-related disasters could double by 2050.
And we have become used to meteorological records, especially heat, not necessarily connected to disasters falling like tenpins year on year.
                                  Every country and community counts,
but it does not necessarily
need to be fully coordinated
Even in the very week we convene online for Climate:Red, two paints on the climate radar were extensively covered by a watching media. Tropical Storm Rene formed off West Africa, the earliest R-named Atlantic storm on record, while a second, Paulette, formed the same day in the central Atlantic, as the year's "extremely active" hurricane season continued.
Earlier this year, the heatwave and wildfires in Siberia felt like something climate scientists had speculated about as a far-off future scenario; but some of that nightmare is with us today.
I think of myself as an optimist by nature, but at this point I'm worried: momentum is certainly growing but by the time we act at the scale needed it may be too little too late.
We need much bigger global ambition. Every country and every community counts, but it does not necessarily need to be fully coordinated, and we need to avoid a waiting game in which we all hang back until others take the first step. Relatively small actions can help; like cutting short-haul air travel, for example.
This is also why the Red Cross Red Crescent can be so powerful, with its huge global network that spans village communities and major international conferences, calling for action on a world stage while also making a difference in every local community, and helping transform our communities to build resilience and reduce emissions.
Again, I'm an optimist. I believe in human resilience and ingenuity, and if we can draw one lesson from the pandemic it is surely that we all now recognize the feeling of being "in it together" on a global level.
But even next to coronavirus, the climate challenge is of a scale that we have never confronted before in modern times. We'll need everyone's creativity and passion to tackle the transition needed — politicians, scientists, diplomats, engineers, businesspeople, investors, citizens – and we need the humanitarians among us, especially, to ensure no one is left behind.
Maarten van Aalst is Director of the Red Cross Red Crescent Climate Centre and Professor of Climate and Disaster Resilience at the Netherlands Twente University's Faculty of Geo-Information Science and Earth Observation. (Photo: Climate Centre)