Climate Centre joins new global alliance against heatwave 'silent killers'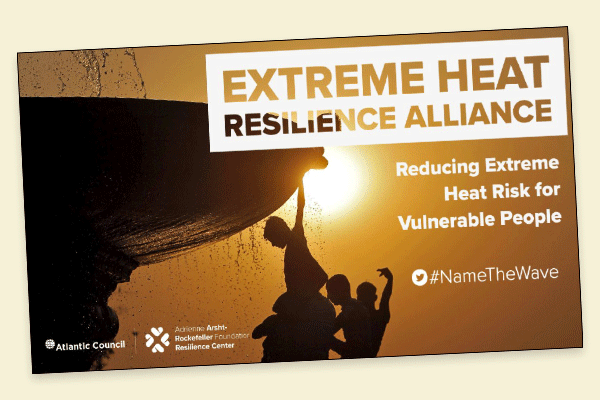 4 August 2020
The Atlantic Council's Adrienne Arsht-Rockefeller Foundation Resilience Center and 30 global partners including the Climate Centre today announced the formation of the Extreme Heat Resilience Alliance (EHRA) to rally "critical capabilities and networks to tackle the growing threat of extreme urban heat for vulnerable people worldwide."
A press release added that the alliance would bring together "global cities' leaders, experts in public health, finance, humanitarian assistance, disaster management, climate science and risk, insurance and public infrastructure".
"This extreme heat crisis can no longer be the 'silent killer' it is," said Kathy Baughman McLeod, Director and Senior Vice-President of the Resilience Center.
"This growing risk – and related solutions – must be blasted from a megaphone to decision-makers and to people everywhere made even more vulnerable by the impacts of Covid-19.
"With the power and reach of the Extreme Heat Resilience Alliance, priority one is…naming and ranking heatwaves globally, just as we do with tropical storms, so that communities and people can adequately prepare, and lives can be saved."
This would for the first time, "convey the true nature of the threat heat poses, essential to protecting vulnerable people who are increasingly more susceptible to its harmful effects," added Rockefeller Foundation President Rajiv Shah.
'Priority one is naming and ranking heatwaves
just as we do tropical storms, so communities and people
can prepare and lives can be saved'
Heatwaves are expected to affect more than 3.5 billion people globally – nearly half of them in urban centres – "as they grow in frequency, duration and intensity," the press release added.
It quotes the International Labour Organization as saying rising temperatures are expected to lead to the loss of up to US$ 160 billion in wages annually in the US by 2090, while globally losses from heat are projected at greater than 20 per cent by the end of the century.
The EHRA is in "active conversations" with the US National Oceanic and Atmospheric Administration and the World Meteorological Organization and other institutions about scaling up work on heatwaves at regional and global level.
The alliance will also address the stresses from extreme heat faced by vulnerable communities by helping to develop policy recommendations, providing better access to affordable capital for long-term interventions including insurance, and implementing interventions "that build the evidence base".
Podcasts
As temperatures soared across Europe this week the IFRC, meanwhile, called on the public to check on neighbours and loved ones who might struggle to cope with the searing heat.
France, Greece, Italy, Spain, Switzerland, and Romania were expecting temperatures in the mid- to high-30s, with Paris and Madrid forecast to reach around 40°C by Friday.
The Climate Centre recently launched a series of podcasts with a detailed look at heatwaves, while the Red Cross Red Crescent guides to heatwave precautions in cities were published in two parts this year and last aimed at National Societies and municipalities respectively.
The Extreme Heat Resilience Alliance plans to rally "critical capabilities and networks to tackle the growing threat of extreme urban heat for vulnerable people worldwide." (Image: Atlantic Council's Adrienne Arsht-Rockefeller Foundation Resilience Center)