Red Cross calls on people to check on neighbours and loved ones during dangerous heatwave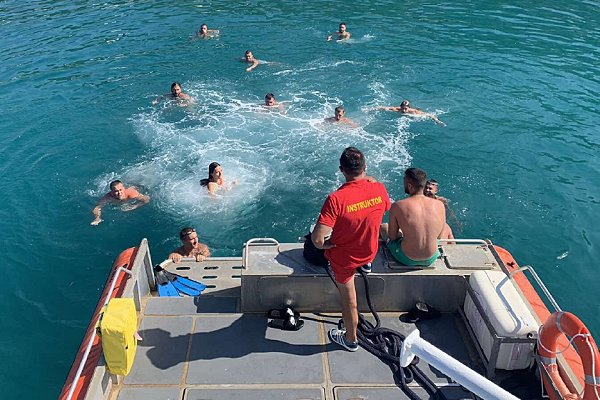 30 July 2020
(This story is an IFRC press release issued yesterday in Budapest and Geneva that also included tips on how to stay safe during heatwaves. The Climate Centre recently launched a series of podcasts with a detailed look at heatwaves, while the Red Cross Red Crescent guides to heatwave precautions in cities were published in two parts this year and last aimed at National Societies and municipalities respectively.)
As temperatures soar across Europe this week the IFRC is calling on the public to check on neighbours and loved ones who might struggle to cope with the searing heat.
According to European meteorological offices, France, Greece, Italy, Spain, Switzerland, and Romania can expect temperatures in the mid- to high-30s during the week, with Paris and Madrid forecast to reach around 40°C on Friday.
To prevent loss of life, the IFRC urged people to check in on their vulnerable neighbours, relatives and friends while following Covid-19 safety measures.
The IFRC's acting health coordinator for Europe, Dr Aneta Trgachevska, said: "Some older people are unable to spend on things like air conditioning. They may be socially isolated.
"When coupled with thermoregulation problems, reduced water intake and physical ability and chronic diseases, there could potentially be a large at-risk group."
The IFRC is also concerned about the potential compounding impact of Covid-19 during this period of soaring temperatures.
"Managing the impact of heat and Covid-19 at the same time poses a challenge to frontline workers, health care systems and local communities," Dr Trgachevska added.
"The spread of Covid-19 will not stop in summer. On the contrary, it increases the risk of extreme heat by compromising our usual coping strategies."
Heat stress
People who would usually visit public places like parks, libraries and shopping malls to find refuge from the heat may be reluctant to leave their homes fear of infection. For the same reason, some may be afraid to seek medical care for heatstroke.
"While self-isolation is advisable for vulnerable people during a pandemic, during a heatwave it could be life-threatening, especially for people living alone without home cooling systems," explained Dr Trgachevska. 
"To make sure our loved ones and neighbours stay safe, we should check on them daily via phone or video calls.
"If you need to physically help someone, make sure to follow hygiene rules, such as wearing a mask and washing your hands upon entering someone's home."
People who are most vulnerable to heat stress are also those most at risk of Covid-19, including people older than 65, pregnant women, those with underlying health conditions, prisoners and marginalized groups such as homeless people and migrants.
Due to the pandemic, health workers and first responders are also more prone to heat stress as they need to wear personal protective equipment.
Across Europe, Red Cross and Red Crescent volunteers and staff are on high alert to support communities during summer.
Door-to-door
The Austrian Red Cross operates cooling centres in malls. It also has a mobile app to help people stay safe with a real time heat map and list of cool public places.
In Spain, Red Cross volunteers are helping people with disabilities to enjoy a dip in the sea.
In Monaco, volunteers are regularly checking in on isolated older people via daily phone calls or physically distanced home visits, and in the Netherlands, they go door-to-door to distribute life-saving information.
In several other countries, including Italy and the UK, Red Cross teams are reaching out to vulnerable groups to inform them on how to stay protected from both the heat and COVID-19.
Heatwaves can have a catastrophic human toll. In 2003 an estimated 70,000 people died during a record-breaking heatwave in Europe. Climate change is projected to increase the frequency and intensity of heatwaves globally.
Montenegro Red Cross volunteers training to join some 400 colleagues who patrol the country's beaches as lifeguards; the country was late this week under an orange alert for heat hazard. (Photo: Montenegro Red Cross via IFRC Europe)