'A humanitarian recipe for a green, resilient and inclusive recovery from Covid-19'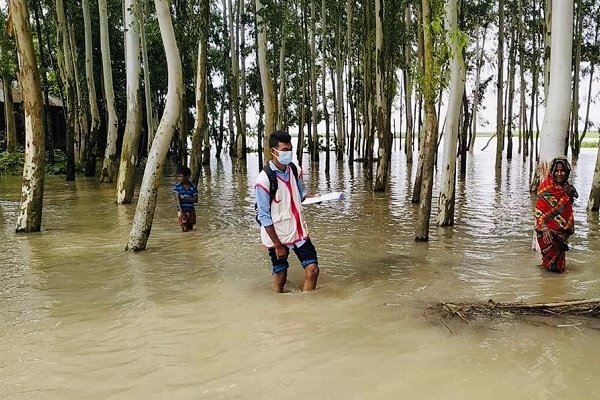 6 July 2020
IFRC writers Friday put forward a three-part framework for ensuring that recovery from the global Covid-19 pandemic leads to a "greener, more resilient society that leaves no one behind."
"Current estimates suggest that less than 0.2 per cent of the nearly US$ 12 trillion committed to Covid-19 recovery by the world's 50 largest economies has been committed to stimulate low-carbon, greener elements of their economies," say the IFRC's Pascale Meige, Richard Blewitt and Maarten van Aalst – respectively Director of the Disaster and Crisis Department, Permanent Observer to the United Nations, and Climate Centre Director.
But calling firstly for investment in resilience, the group argue for resources now to go to "jobs that enable people to withstand future shocks and stresses, and that empower communities to build their self-reliance."
Investment should also be directed to "community health workers, local water supply and sanitation systems [and] local renewable power supply solutions for places that currently rely on vulnerable grids".
In their Thought piece for the IFRC Solferino Academy website, the group call for an inclusive "recovery that benefits the first mile" – communities with the least access to the services they need that are the worst affected by crises.
Thirdly, they write, "while investing in resilience, our investments should of course be green: investing in the technology and therefore the jobs of the future." 
                                                                 'We have a choice…'
The IFRC group cites the recent evacuation of millions of people in Bangladesh and India ahead of Cyclone Amphan, and early action together with Covid-19 precautions for monsoon floods in Bangladesh as instances when investment in resilience has paid off and the impact of "colliding risks" has been reduced.
"The massive spending on Covid-19 response and recovery is already draining existing and future aid budgets for humanitarian action, sustainable development, disaster risk reduction and climate action," and humanitarian donors may themselves feel the economic fallout.
"So we have a choice. In our quest to restore jobs and livelihoods, will we rebuild our economies as they were, perpetuating patterns of social injustice, economic inequality, and environmental destruction, and simply accept the rising risks coming our way?"
The Covid-19 response could in fact serve "as a catalyst towards achieving global goals reflected in the Sustainable Development Goals, the Paris Agreement and the Sendai Framework," the article goes on.
"We will make these links ourselves, called for in the IFRC Strategy 2030, which lists climate change and environmental crises as one of the top five priorities for this decade."
On a shorter timeline this is reflected in the operational strategy underpinning the IFRC's global Covid-19 appeal, which seeks "to address immediate health and socio-economic needs, but also to strengthen the capacity of our National Societies for response, readiness and resilience for ongoing and future shocks."
Bangladesh Red Crescent Society teams escorting people to safety amid widespread monsoon floods. Anticipatory funding from the IFRC helped the National Society evacuate people from the most at-risk communities with assets and livestock and provided cash grants. The photo illustrates a new Thought piece by senior IFRC figures calling for a "green, resilient and inclusive recovery from COVID-19". (Photo: BDRCS via IFRC)