Canadian heat: 'A stunning breakout above all previously measured values'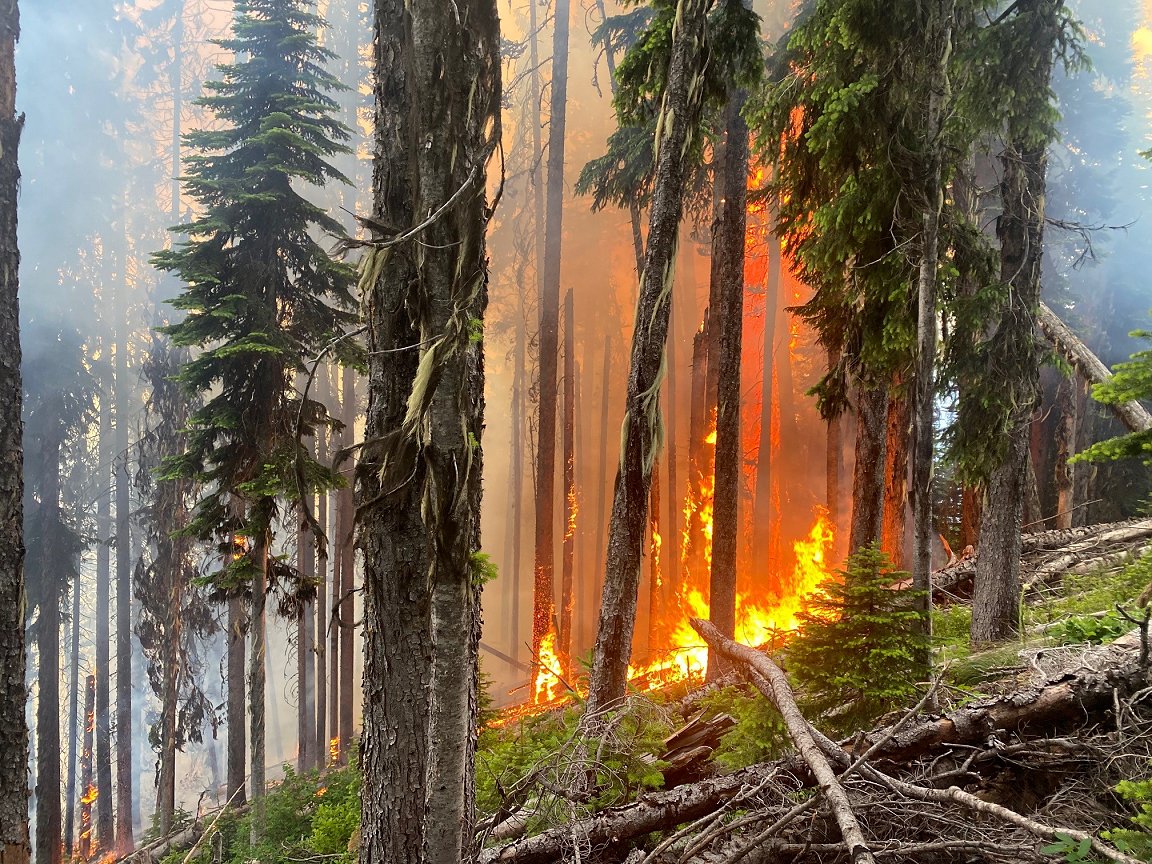 4 July 2021
by the Climate Centre

The Canadian Red Cross has set up a family reunification helpline, open 12 hours a day, seven days a week, for people separated from and looking for family members after scores of wildfires in British Columbia, the country's westernmost province.
"Extreme heat in British Columbia has shattered records, factored in more than 200 deaths, fuelled wildfires, and triggered 'astonishing' mountain snowmelt and subsequent flooding," said the Ontario-based Weather Network last week, in a report tweeted by the CRC.
"Our thoughts are with people affected by fires in several communities in British Columbia, including those from Lytton and surrounding areas," the National Society said.
Lytton, a village in the south of the province which recorded a new modern-era record Canadian temperature of 49.6°C, was almost completely destroyed by fire last week; most residents had fled.

The Lytton temperature far exceeded the previous record of 45.0°C recorded in Yellow Grass, Saskatchewan in 1937.
Thousands of lightning strikes have continued to cause more wildfires (photo), and media reports over the weekend said emergency services are still trying to control at least 170 fires across British Columbia; they quoted Public Safety Minister Bill Blair as saying said the weather and the wildfires were having a "devastating and unprecedented" impact on British Columbia.
Among the safety advice re-emphasized by the Canadian Red Cross are monitoring local weather, news and warnings, keeping vehicles fuelled and facing the street, and following instructions to evacuate.
Cooling centres

The American Red Cross last week said it is working with local officials to open and support shelters and cooling centres for people also affected by the record-breaking high temperatures in the Pacific north-west of the US.
The National Society quoted forecasters as saying that "unprecedented heat will move inland with temperatures as high as 30 degrees above normal in a region where many residences don't have air-conditioning.

"Excessive heat warnings have been issued and people are urged to follow heat safety steps such as stay in air-conditioned areas, drink plenty of water and avoid strenuous activities."
More than 140 trained Red Cross responders were supporting at least 11 shelters and cooling centres where more than 400 people were escaping the heat.
'This heatwave has reached further above
historical means than any other
recorded anywhere in North America'
The American Red Cross added: "High temperatures and humidity claim the lives of more than 600 people in this country every year.

"Those more at risk include adults age 65 and older, those with chronic medical conditions, people who work outside, infants, children and athletes. Some medications make the effects of extreme heat worse. People with heart disease, poor blood circulation, obesity and mental illness are at risk for getting sick if the temperatures climb."
Scientists with the World Weather Attribution group are shortly planning to release the results of a rapid assessment of the extreme heat in the Pacific north-west.
"Every heatwave occurring today is made more likely and more intense by human-induced climate change," tweeted Dr Friederike Otto last week, announcing the study that would produce accurate numbers on just how much more likely.

Another scientist, Dr Robert Rohde, with the Berkeley Earth group, described the Canadian temperature record of 49.6°C as a "[s]tunning breakout far above all previously measured values…This heatwave has reached further above historical means than any other summer heatwave previously recorded anywhere in North America."
A wildfire at Sparks Lake, British Columbia last week that covered some 750 hectares, one of scores that have continued over the weekend, triggered by thousands of lightning strikes. (Photo: British Columbia Wildfire Service)