Covid and climate change: when crises collide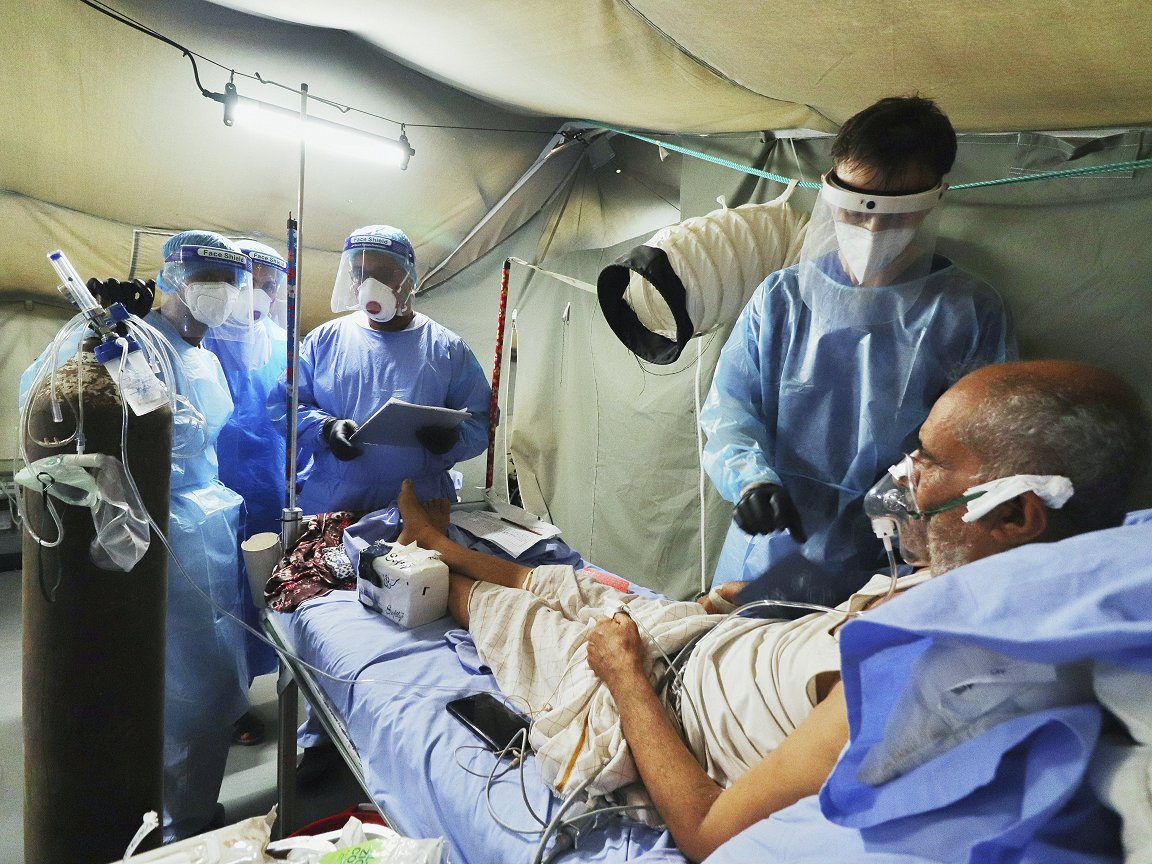 6 July 2021
by Michelle Langrand and Pokuaa Oduro-Bonsrah, Geneva Solutions
(This article appeared first on the Geneva Solutions website late last month; it has been edited here for length)
In an age of multiple, complex global emergencies, humanitarian agencies are forced to bite off more than they can chew. Cyclones, flash flooding, droughts and heatwaves are worsening year-on-year due to climate change. Over the course of the pandemic they continue to attend to the needs of those afflicted by such extreme weather events.
Covid-19 took the world by storm, a literal storm. Intertwined with the threats of extreme climate events, conflict and Covid-19, the work of humanitarians is being dealt three blows.
These crises impact humanity differently in respective regions. Speaking to the IFRC and the French Red Cross, the indiscriminate nature of humanitarian crises at the intersection of health, environment and violence becomes ever more present.
For Dr Hosam Faysal, heading up the disaster and crisis prevention unit of IFRC's Middle East and North Africa region, the 'Three C's' are all too familiar.
"The deepest humanitarian concerns include all three factors, it was already terrible in terms of conflict and climate even before Covid but now the pandemic magnifies these challenges," Faysal explained.
At the crossfire of extreme-weather events, fighting and the coronavirus pandemic, "the combination is very dangerous, because each factor increases the probability induced by the other, with floods posing a further risk of exposing the populations to waterborne diseases," he added.
The situation in Yemen, deemed the world's worst humanitarian crisis is riddled with food insecurity and conflict. At least one child dies every ten minutes from malnutrition or diarrhoea and more than 80 per cent of its nearly 30 million population require humanitarian assistance.
As the country faces famine-like conditions, torrential rains and flash flooding have torn through homes and infrastructure in recent weeks, affecting almost 7,000 families, most of them already internally displaced and living in inadequate shelters.
Extreme-weather events, combined with Covid-related care, are putting further strain on already fragile and overcrowded health care systems which "are on the brink of collapse", said Faysal.
'Each factor increases the probability
induced by the other, with floods posing
a further risk of exposing populations
to waterborne diseases'
The pandemic has also slowed down the international humanitarian supply chain and the distribution of essential emergency supplies. For the IFRC, ensuring the health and safety of national volunteers, staff and communities is of utmost importance, but without the personal protective equipment, for example, the tasks of the organization becomes all the more difficult.
"You cannot ask a volunteer on the ground to distribute food without ensuring the protection. IFRC volunteers giving food in these contexts also have a duty to protect the communities and will not be able to for example call big gatherings for food distribution as this could increase the chances of transmission."
Across the Atlantic, the Americas face the dual threat of Covid and hurricanes, warned the Pan American Health Organization's (PAHO) Director, Dr Carissa F. Etienne.
So far, 13 to 20 named storms, including up to 10 hurricanes have been forecast for the season, which officially began on 1 June. These weather disasters are cyclical and, as such, countries and Red Cross teams in the region are being asked to prepare and share "early warning messages and urge people to have food, water and other basic necessities at hand, as during the pandemic it might take longer for help to arrive," explained Roger Alonso, head of the the IFRC's Disaster, Crises and Climate unit in the Americas.
Still, while nations prepare for the upcoming inevitable emergencies, they are still recovering from previous disasters.
Last November, back-to-back hurricanes battered millions and thrashed infrastructure, particularly across Central American countries, a region also afflicted by violence.

Hurricanes Eta and Iota – both Category 4 storms – hit within two weeks of each other, affecting 9.9 million people and damaging fundamental health infrastructure in Colombia, Honduras, Guatemala and Nicaragua.
"Central American countries are suffering the impact of three crises: Hurricanes Eta and Iota, Covid-19, and the pre-existing humanitarian crisis," said Alonso.

"In Honduras alone, before the pandemic and the hurricanes, about 1.3 million people already needed help in the areas of food security, health, protection, and water and sanitation."
In the past few weeks, PAHO said most countries in Central America and the Caribbean saw spikes in Covid-19 cases, a worrying trajectory, especially as the stormy season just commenced.
'For heatwaves we ask people to close their windows and use fans, while for Covid we ask them to open windows and not use fans, so it's somewhat schizophrenic'
With summer in full swing, the prospect of life-threatening heatwaves is added to the list of worries. According to the WHO, heatwaves are "among the most dangerous of natural hazards, but rarely receive adequate attention because their death tolls and destruction are not always immediately obvious".
"It's another form of pandemic, even if we don't call it a pandemic," Florent Vallée, National Delegate for First Aid, Planning and Operations at the French Red Cross, told Geneva Solutions.
"The complexity in all this is that for heatwaves we ask people to close their windows, use fans to cool the rooms, while for Covid, we ask people to open windows and not to use fans, so it's somewhat schizophrenic," Vallée explained.
"It's really about juggling these great principles," he added. "It's about information and having one clear and very simple message."
For Vallée, the biggest concern are the elderly and socially vulnerable groups such as migrants and homeless people who suffer the double blow of Covid and heatwaves.
The Red Cross is adapting its care centres and outreach services to withstand the high temperatures, putting in place cool rooms for people, while making sure that social distancing and mask-wearing can be respected.
The high temperatures will also have an impact on the ongoing vaccination campaign. "We have centres that we will have to close because we don't have a cool room or because it's going to be too hot and it's impossible to work in those conditions," he said.
Fortunately, Covid-cases in France have been steadily decreasing and around 36 per cent of the population have already received the two doses.
One thing that the IFRC members agree on is the need to emphasise anticipation and preparedness. Thanks to science and technological developments that allow for a better understanding of weather events, these are slowly moving to the forefront of humanitarian interventions.
But traditional funding schemes have made it hard for the money to keep up. "Our systems are often set up to address one particular problem," observed Climate Centre Director Maarten Van Aalst.
A growing number of donors are open to providing financial aid before a disaster happens, he explained, and emergency funding mechanisms such as the IFRC's Disaster Relief Emergency Fund have been expanded. While Covid has accelerated this trend, funding needs to become more flexible, Van Aalst noted.
"We need more structural solutions to some of these problems and part of it is how we do our work, how we partner with others and how we transition some of the support we provide in times of crisis into modalities that build resilience over a longer period of time, and it is something we cannot do on our own".
Yemen: a suspected Covid patient is cared for at an ICRC-supported facility in Aden in May. More than 80 per cent of all Yemenis required humanitarian assistance because of a deadly combination of conflict, climate change and now Covid. (Photo: Saeed Mubarak/ICRC)