North American heatwave '150 times more likely with climate change', say attribution scientists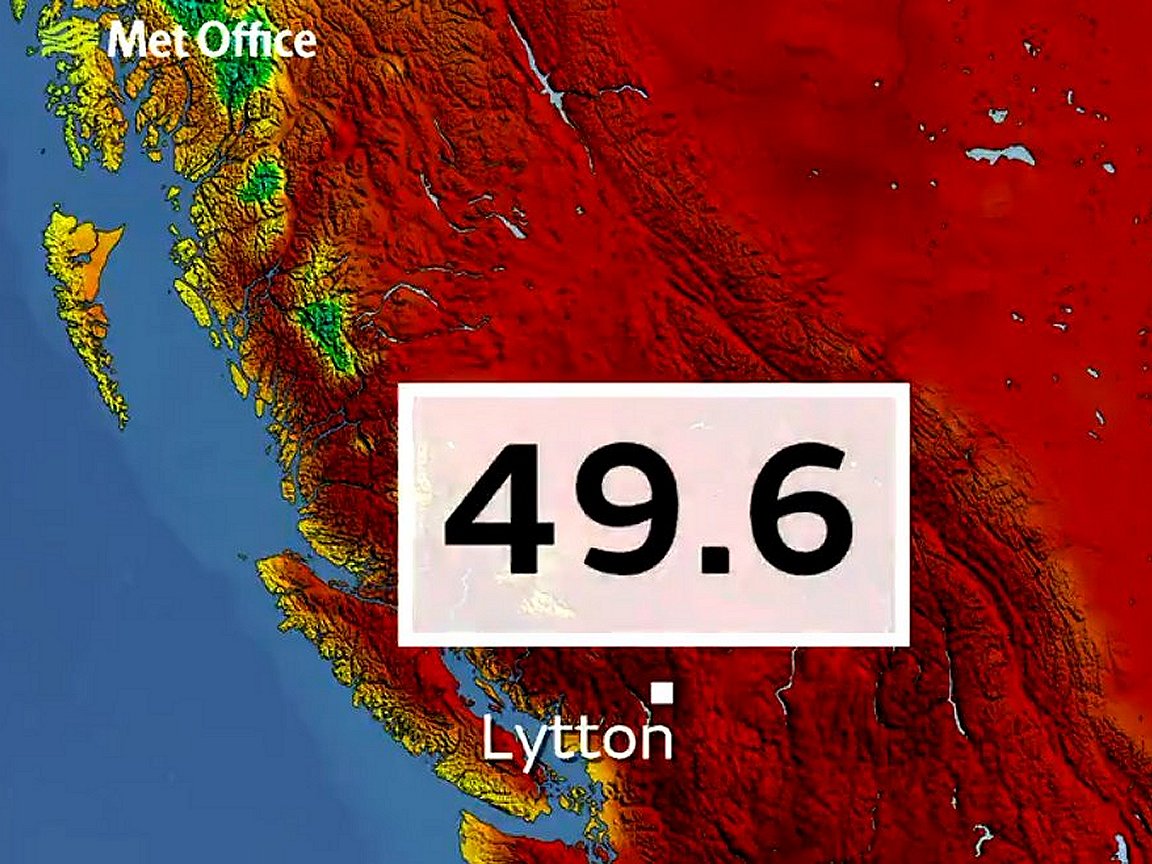 8 July 2021
by the Climate Centre

Last week's record-breaking heatwave in parts of the US and Canada would have been virtually impossible without the influence of human-caused climate change, according to a rapid analysis by World Weather Attribution scientists.

Climate change caused by greenhouse gas emissions made the heatwave at least 150 times more likely, they say.

Western Canada and the US Pacific North-West saw temperatures that broke records by several degrees, including a new Canadian record of 49.6ºC in the village of Lytton that was later destroyed by a wildfire, far above the previous record of 45ºC.
"What we are seeing is unprecedented. You're not supposed to break records by four or five degrees Celsius," said Friederike Otto, of the Environmental Change Institute at Oxford University, one of the climate scientists involved in the study.
"This is such an exceptional event that we can't rule out the possibility that we're experiencing heat extremes today that we only expected to come at higher levels of global warming."

The team said, however, that even if the global temperature rise is limited to 2°C, which might occur as soon as 2050, a heatwave like the North American event "would occur about once every five to ten years".
'There must be a concerted global effort
to deal with the climate emergency –
the biggest threat to the future
of the planet and its people'
It was also possible that the climate system has already crossed a threshold where a small amount of global warming is now causing a faster rise in extreme temperatures than observed so far, meaning record-breaking heatwaves are today even more likely than currently predicted.

"It raises serious questions about whether we really understand how climate change is making heatwaves hotter and more deadly," said Geert Jan van Oldenborgh of the Royal Netherlands Meteorological Institute, a WWA partner agency.

The scientists warn that adaptation plans should be designed for temperatures "well above the range witnessed in the recent past".
After "massive wildfires" in the wake of extreme heat triggered evacuations across British Columbia, the Canadian Red Cross earlier this week launched a domestic appeal. "Wildfires have devastated individuals and families in British Columbia," the National Society said. Red Cross teams were working closely with local and indigenous governments to plan how to support those affected.
"Years of experience have shown us that the needs from a disaster of this magnitude will be immense, and we are committed to supporting communities in the days, weeks and months ahead," said Patrick Quealey, Vice-President of the CRC British Columbia and Yukon branch.
'Realm of possibility'
Heatwaves are now established as among the most lethal weather-related disasters, and topped the global charts of the deadliest disasters last year and in 2019, explained Climate Centre Director Maarten van Aalst, also a member of the WWA team behind the study.
"But many of these deaths can be prevented by adaptation to the hotter heatwaves that we are confronting in this region and around the world," he said.

Dale Kunce, Chief Executive Officer of the American Red Cross Cascades Region, said yesterday: "This heatwave underscores the urgent need to adapt to rising climate risks and plan for events that seem beyond the realm of possibility, such as the temperature extremes we experienced here in Portland last week.

"Globally, heatwaves are becoming more frequent and intense. We encourage our peers and local actors around the world to get prepared."
Heat and drought

In response to the WWA study, the IFRC said yesterday that "rocketing temperatures are having a severe impact on millions of people and putting lives at risk".
International Federation President Francesco Rocca said: "We are responding on the ground, and thanks to our investment in anticipatory action, we are able to better prepare for these crises.
"The Red Cross and Red Crescent network cannot combat the devastating impact of the climate crisis alone. There must be a concerted global effort to deal with the climate emergency, which represents the biggest threat to the future of the planet and its people."
The IFRC said in a press release yesterday that National Societies and their volunteers had recently been helping people with the humanitarian impacts of heat and drought in Europe, the Middle East, Afghanistan and Pakistan, among other countries.
The IFRC yesterday reported that in Saudi Arabia, the Red Crescent had organized a nationwide campaign on mitigating the health hazards caused by temperatures climbing to 50ºC – barely half a degree higher than the record observed in Canada. (Image: social media)