IFRC report: Climate adaptation and risk reduction share fundamental goals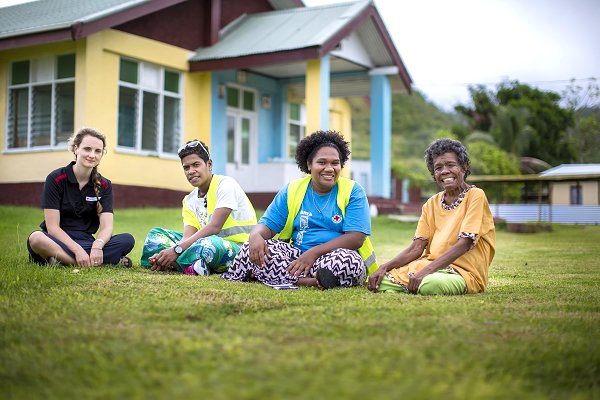 2 June 2020
(A version of this story ran first last month on the website of Ireland's University College Cork; it is also included in the May IFRC policy update.)
A new report commissioned by the IFRC examines how adaptation to a changing climate and the reduction of its impacts can be addressed at local, national, regional and global levels, and the complex considerations for law and policy-makers in doing so.
These issues are explored with a special a focus on the Pacific, where island states are seen as pursuing a more coherent approach to disaster and climate resilience.
"The main aim of this study is to represent a useful tool of reference for experts, practitioners, and decision-makers, thus enhancing the protection of the most vulnerable against climate-related risks," said the report's author, Tommaso Natoli of University College Cork (UCC).
Dr Natoli was seconded to the IFRC's Leave No One Behind disaster-law research project for the work, with EU and Irish Research Council support.
His report, Laws and Policies that Protect the Most Vulnerable Against Climate-Related Disaster Risks – Findings and Lessons Learned from Pacific Island Countries, finds that adaptation to climate change and disaster risk reduction "share fundamental goals".
These include the reduction of losses from weather- and climate-related hazards, including both slow- and sudden-onset events, and the improvement of community response and resilience.
'Good practice and legal and policy reforms
to protect vulnerable communities
from climate-related disaster'
With the urgency of such alignment increasingly reflected in resolutions and reports adopted at the global level in recent years, this report "builds on the need for a more holistic approach to climate and disaster governance, and argues for this to be accomplished within the framework of the UN Agenda 2030 and Sustainable Development Goals," the UCC news site said.
The report examines policies being adopted in the Pacific, including a detailed case study on Fiji, analysing national practice with a focus on states' participation in UN reporting as well as strategies for adaptation and risk reduction.
It also includes recommendations for improvements in law, policy and institutional arrangements for the protection and inclusion of vulnerable groups.
"It is hoped that this research will support governments [in identifying] good practice and potential legal and policy reforms to protect their most vulnerable communities from climate-related disaster," the UCC added.
Savusavu, Fiji, April 2016. Red Cross volunteers meet several weeks after Cyclone Winston – the most severe ever to strike the Pacific island nation. Psychological first aid was identified as one of the biggest needs, and the IFRC and the Fiji Red Cross trained more than 100 volunteers to provide it. The photo illustrates a case study in a new report on disaster law and climate. (Library photo: Damien Light/Zoom Fiji via IFRC)