Global partnership on heat and health urges better preparation for Northern Hemisphere summer amid pandemic precautions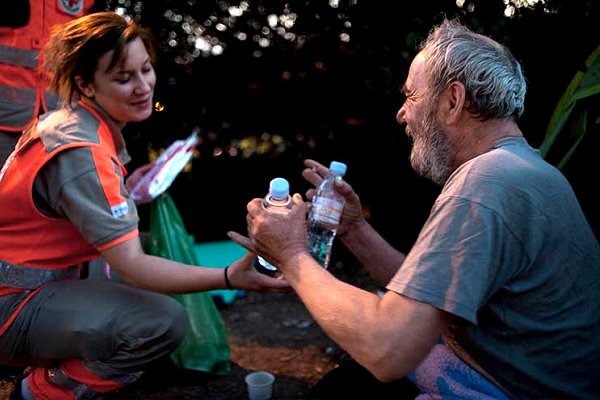 26 May 2020
(A longer version of this story first ran earlier today on the GHHIN website.)
An international network of experts on health risks from heat in a changing climate have called for better preparation to keep people safe from both heatwaves and Covid-19 as the Northern Hemisphere enters what is expected to be another record-breaking summer.
"The ongoing pandemic amplifies the health risks of hot weather for many people, including those also at risk of Covid-19," according to a press release today from the Global Health Heat Information Network (GHHIN), which includes the IFRC and the Climate Centre. "Countries and communities therefore need to prepare now for a hot summer."
The network is tomorrow Wednesday launching an information series to help authorities address health risks from hot weather during the pandemic, including a technical brief, questions and answers, and a planning checklist.
It is being introduced in a webinar hosted by the WHO Regional Office for Europe, and covers topics such as vulnerable populations, health workers and heat stress, low-tech cooling options, informal settlements, and "ozone, heat, and Covid-19".
Due to job losses and stay-at-home orders
'people at risk for heat illness may be
in more precarious socio-economic conditions'
"Reducing the number of people developing heat-related illnesses should be a priority to help minimize admissions to already overstretched hospitals," said Joy Shumake-Guillemot, Climate and Health Lead at the Joint WHO/WMO Office in Geneva.
"City authorities and health professionals are likely to face difficult choices on how to strike a balance between preventing the spread of infection while also keeping people safe from dangerously hot conditions," she added.
"This package of information reflecting contributors and reviewers from over 25 countries aims to help them reflect on their choices and be better informed in their decisions."
The GHHIN press release adds that communications strategies will be needed as actions to reduce heat-related illness and death – such as leaving dangerously hot indoor spaces or home visits to check on vulnerable people – may contravene pandemic precautions.
Non-virus issues
"While environmental conditions likely play a limited role in determining where and when Covid-19 occurs, hot weather can compound impacts and worsen outcomes for patients," GHHIN adds.
Transmission could increase as people congregate outdoors and in public spaces in search of cooler conditions, while heat-stress patients could "place a strain on healthcare and other critical systems at a time when many are already at the breaking point."
Covid-19 has amplified the risks of hot weather for many at-risk groups who are vulnerable to both the virus and heat stress, GHHIN says. Due to job losses and extended stay-at-home orders, "people considered at risk for heat illness may be in more precarious socio-economic conditions."
Public fear of seeking healthcare during the pandemic may delay people seeking attention for non-virus issues including heat stress, even when critically needed.
At the government level, GHHIN recommends that "heightened coordination and heat preparedness, including reviewing and modifying heat plans and local guidance should be happening now, before the heat season starts."
Health workers should be trained to watch out for cases of heat stress, and should be aware of the additional heat risks they themselves may face while wearing personal protective equipment and working in hot conditions.
Every year the French Red Cross readies plans for both extreme cold and (pictured) heat, when like many National Societies it distributes drinking water in the streets to vulnerable people. (Library photo: Croix-Rouge française)