IFRC-Climate Centre 'cartoonathon' participants ask: after COVID will the new-normal stick?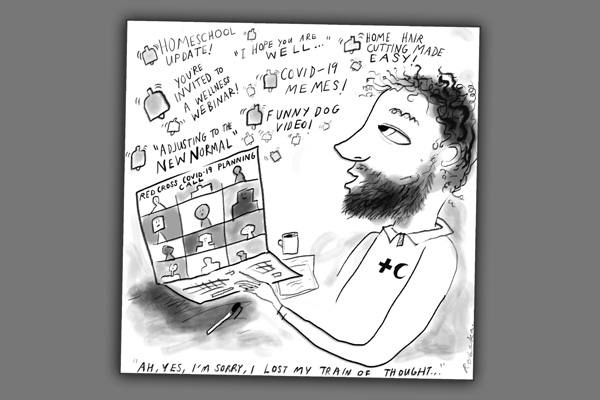 18 May 2020
An IFRC cartoonathon earlier this month drew more than 150 people from at least 60 countries to "explore transformation and change within our network", organizers said.
Participants discussed how COVID-19 is "shifting concepts of vulnerability and the type of organization that can effectively address these changing risks".
The virtual event, hosted by the IFRC Solferino Academy, was designed and facilitated by the Climate Centre with support from EIT Climate-KIC – the EU's leading agency for innovation in the drive for carbon neutrality.
Participants addressed three broad areas: complexity and chaos, digitalization, and innovation and agility, while professional cartoonists listened in and drew original cartoons aimed at teasing out insights.
The Italian and Spanish Red Cross gave short presentations on how they have had to change their ways of working due to COVID, and in groups participants explored how to accelerate transformations to help meet new challenges.
                   Was the previous normal actually 'normal'?
              It's what brought us to where we are today'
Participants recognised an increasingly complex world with interconnected challenges and unexpected events that force us to constantly adapt to new challenges, according to a brief published by the IFRC.
"They saw this as the new normal and something we would have to get better at dealing with," it added.
National Societies felt that the COVID pandemic had boosted the need for, or pace of, actual change with both digital transformation and innovation.
"Many felt we had achieved more in a month than we would normally in years," the IFRC said. "But there are many concerns as well, in particular how to reach the most vulnerable and for those with low connectivity."
'New possibilities'
Innovation had always occurred throughout the Red Cross Red Crescent network, but COVID had "rapidly thrust the need to innovate [and along] with it the leadership, decision-making, processes and culture needed to enable and help it move quickly through the organization."
One participant said: "The current crisis has created new ways of doing things, and has encouraged agencies to innovate, think outside the box and explore new possibilities.
"I hope we shall not lose these new and helpful benefits when the crisis is over" – a widely held view overall at the cartoonathon.
Another wondered: "We should consider living with COVID-19 as the new normal. But we should consider whether the previous normal was actually 'normal'. Because that brought us to where we are today."
One of the cartoons produced during the IFRC cartoonathon, when participants discussed how best to address "shifting concepts of vulnerability" in the new reality generated by COVID. (Image: Rebeka Ryvola/CartoonCollections)