Red Cross Red Crescent volunteers respond to wildfires raging across Europe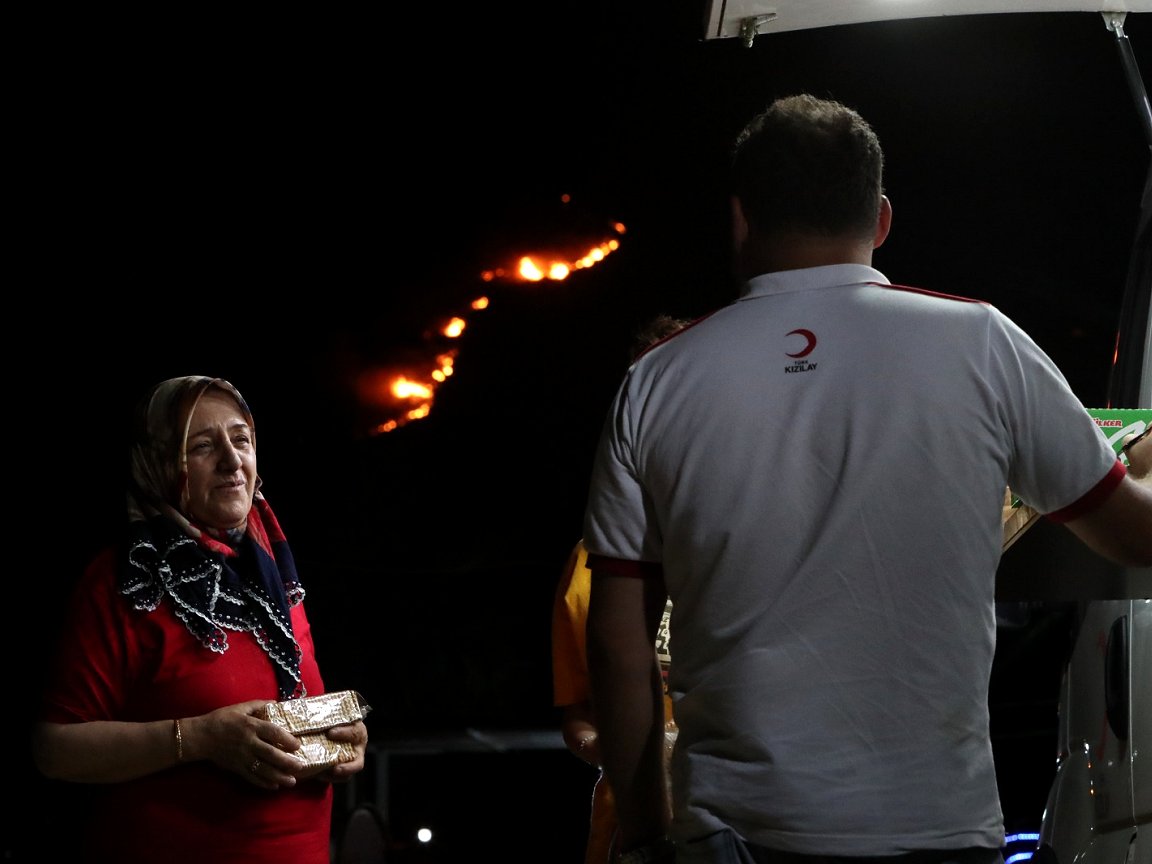 3 August 2021
(This story is an IFRC press release issued in Ankara, Budapest and Geneva yesterday; it has been edited slightly here for time references. Please also see IFRC guidance for householders on wildfire preparedness.)

by the IFRC

Volunteers from Greece, Italy, Russia, Spain, and Turkey are responding to wildfires raging across Europe. Scorching temperatures, high winds and tinder-dry conditions have forced rescues by sea and land, with thousands of people fleeing for their lives with just the clothes on their backs.
In southern Turkey eight people have died and scores are injured. Hundreds of animals have been killed and countless homes lost in the worst-hit areas of Antalya and Bodrum cities.

More than 2,000 Turkish Red Crescent staff and volunteers are on the ground.
Lifeguards
Shafiquzzaman Rabbani, Acting Head of the IFRC Turkey delegation, said: "We are very concerned at this week's weather forecast, with temperatures tipped to reach as high as 40 degrees Celsius in Antalya.

"Teams of Turkish Red Crescent volunteers and staff are doing everything they can to assist those affected."
The Turkish Red Crescent is providing food through its mobile kitchens (photo), distributing water and hygiene kits, and providing shelter and psychosocial support to firefighters and affected communities.
In Greece, Hellenic Red Cross rescuers and lifeguards have been evacuating trapped people by boat from the settlements of Kamares, Longos and Platiri. Earlier in the week they were helping the fire brigade quell a fire in Patras.

Extreme temperatures forecast for this week have teams on high alert.
Flare-ups

The Italian Red Cross has been assisting with evacuations in Sardinia and distributing water and food. They have delivered animal feed to farmers as fires continued over the weekend.

More than 800 flare-ups were recorded this weekend, mainly in the south, and firefighters continue to flight blazes in Sicily.

IFRC Europe's acting head of Disaster, Climate and Crises, Antoine Belair said the increasing number of wildfires year-on-year across the Mediterranean is linked to climate change causing more extreme weather, including lower rainfall and higher temperatures.

"Extreme-weather conditions exacerbate risks of these events. Red Cross and Red Crescent National Societies remain on high alert, providing support to affected populations, in close coordination with national authorities and firefighter teams," he said.
Türk Kizilay (Turkish Red Crescent) volunteers distribute food and drinking water in the Aydicik district of the Mediterranean coastal city of Mersin as forest fires rage in the distance. (Photo: TRC via Twitter).