Sir John Houghton, climate scientist, 1931–2020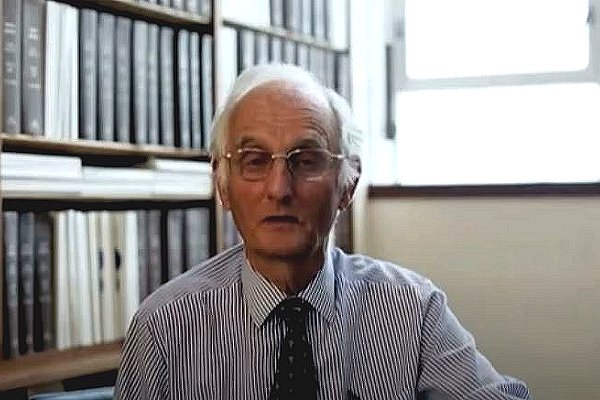 20 April 2020
(This story was updated on 21 April after confirmation of Sir John Houghton's COVID diagnosis.)
Sir John Houghton, the British atmospheric physicist who was internationally recognised for his work on climate change, died last Wednesday from complications following a COVID-19 diagnosis, his granddaughter Hannah Malcolm said. He was 88.
Sir John, who was born in Wales and won a scholarship to Oxford University at 16 to study maths and physics, was co-chair of the Intergovernmental Panel on Climate Change, which was awarded the Nobel Peace Prize in 2007, sharing the honour with the climate activist and former US Vice-President Al Gore.
He was lead editor of the IPCC's first three assessments of the science of global climate change and his books include Global Warming: The Complete Briefing, aimed at the non-scientific reader and now in its fifth edition.
A devout Christian, Sir John was also well known for his view that science and religion could fruitfully coexist; one of his other books, in 1995, was The search for God: can science help?  
                                                                                      'A good life'
He first became an Oxford professor in 1958 and was later also chair of the World Climate Research Programme.
He was deputy director of the Rutherford Appleton Laboratory then director general and later chief executive of the UK Met Office; he founded its Hadley Center for Climate Science and Services, regarded as a world leader in climate research.
"I've been privileged to be closely involved in the wonderful revolution of the past 50 years in atmospheric and Earth science," Sir John, who was knighted in 1991, told the Church Times in 2013.
"It's been like surfing – if you get on the wave at the right time, you come right into the shore.
"All this began to be possible after Sputnik in 1957, and the use of powerful computers to model the atmosphere and climate."
Sir John Houghton's view, as expressed to the Church Times, was that: "The whole world needs to jump onto this surfboard, really."
In 2003 he described climate change as "a weapon of mass destruction".
'True leader'
Ms Malcolm said that her "consistent memory of him was warnings over the devastation waiting for us if we didn't act on climate change.
"And I remember thinking how glad I was that scientists like him were in charge. But of course it isn't the scientists in charge."
Her grandfather, she said, had "faced a lifetime of lobbyists and corporations trying to undermine his work, question his motives, and distract from evidence."
But she added that he "got to live his final years by the sea in Wales, which was perhaps the place…he loved most of all.
"He slowly lost a lot of memories and faculties to dementia, but the sea remained with him. A good life."
                                                                
                                                                                     *
As co-founder and co-chair of the IPCC, Sir John Houghton was one of the true leaders for the interface between climate science and policy, Climate Centre Director Maarten van Aalst writes.
For a scientist of his eminence and renown he was humble but also sharp and convincing.
When the Red Cross Red Crescent started assessing the humanitarian consequences of climate change, he was extremely supportive – providing helpful input to the Climate Centre's Preparedness for Climate Change, for example, a report to the 2003 International Conference of the Red Cross and Red Crescent that first established climate as a central humanitarian concern.
The fruitful collaboration we now have with the UK Met Office on early warning early action and initiatives like REAP are part of his precious legacy of making the best atmospheric science relevant to wider society.
Sir John will be greatly missed within the climate community; the gap he leaves will not easily be filled.
Sir John Houghton gives a talk on the 25th anniversary of the Intergovernmental Panel on Climate Change. (Image: IPCC)