UN couples international observance days for water and meteorology to raise profile of climate issue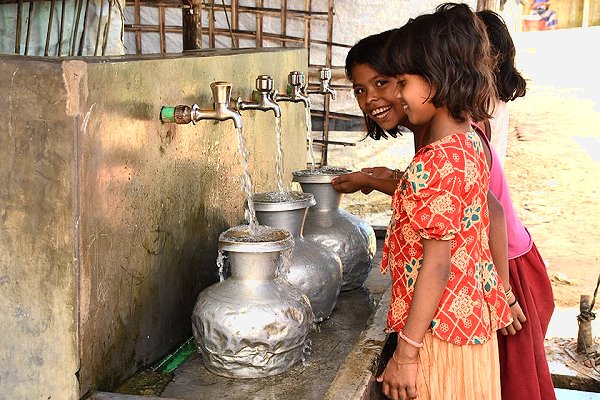 23 March 2020
United Nations agencies have this year coupled two special days to highlight that one of the biggest impacts of climate change is on water, which in turn affects development and security; but in contrast to good information about rising temperatures, "data on water resources is patchy and incomplete," the World Meteorological Organization said today.
World Water Day yesterday and World Meteorological Day today are both dedicated to climate and water, the WMO said, and "[o]ne of the underlying themes is that we can't manage what we don't monitor and measure – a message which has become unfortunately too familiar in the ongoing COVID-19 pandemic."
The WMO added that because of the coronavirus pandemic, there will be no official events to mark its own 70th anniversary later in the year.
The UN World Water Development Report 2020 – Water and Climate Change, released Saturday by UN-Water and UNESCO, says climate change will affect the "availability, quality and quantity of water for basic human needs, threatening [the] rights to water and sanitation for potentially billions of people."
'The world needs to demonstrate the same unity
and commitment to climate action as to
containing the coronavirus pandemic'
In a special message to mark the joint observance, UN Secretary-General António Guterres said: "We need to manage climate and water in a more coordinated and sustainable manner to address the urgent need for improved forecasting, monitoring and management of water supplies… 
"Improved hydrological monitoring and forecasting are vital to underpin effective water management policies and flood and drought early warning services."
For his part, WMO Secretary-General Petteri Taalas added today that, "We feel the effects of climate change mostly through water: more floods, more droughts, more pollution.
"Just like viruses, these climate and water-related shocks respect no natural boundaries.
"The world needs to demonstrate the same unity and commitment to climate action and cutting greenhouse gas emissions as to containing the coronavirus pandemic."
The WMO release points out that amid the COVID-19 pandemic an estimated 3 billion people worldwide still lack basic handwashing facilities.
Water points
Over two billion people live in countries experiencing high water stress while around 4 billion face severe water scarcity for at least one month a year; by 2050 the world's demand for fresh water will be up to 30 per cent greater than today.
The IFRC yesterday tweeted that the Red Cross Red Crescent societies around the world are working with communities on water to "reduce, reuse, recycle and restore to tackle the climate crisis".
Access to clean water is essential, it added, in the battle against COVID-19, and in Bangladesh (photo), for example, more than 100 million litres of water have so far been distributed at water points set up by the Red Crescent.
The WMO says its eight long-term ambitions related to water include aspirations that no one is surprised by a flood, that everyone is prepared for drought, and that while high-quality data supports science, science in turn "provides a sound basis for operational hydrology."
The UN has flagged the number of people worldwide who still lack basic handwashing facilities amid the coronavirus pandemic, as the Red Cross Red Crescent works with communities to make better use of water resources to help tackle the climate crisis. (Photo: BDRCS via IFRC)