With heatwave danger expected to grow, USAID adds technical detail to Red Cross Red Crescent guide for city officials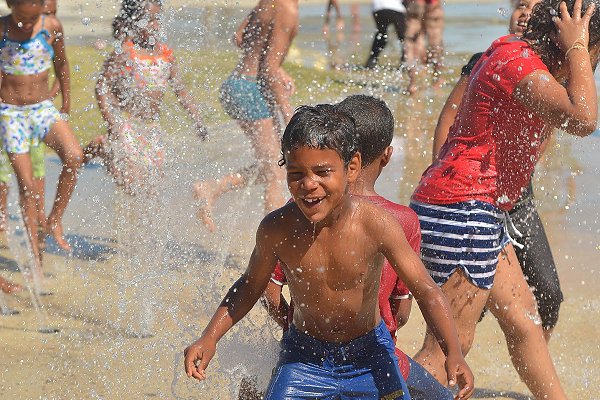 24 February 2020
The United States Agency for International Development last week released four companion guides to the Climate Centre's Heatwave Guide for Cities that was introduced by IFRC President Francesco Rocca at the UN in New York last July.
The new USAID guides provide city officials with technical background on the "exacerbating effect of heat" alongside the key urban environmental issues of air and water quality, and waste management.
With heatwaves associated with poor air quality – especially particulate matter, surface ozone, nitrogen and sulphur dioxide – USAID says "projected increases in temperatures and more frequent heatwaves could increase ambient air pollution levels, negatively impacting human health."
Likewise heatwaves "can significantly [increase] waterborne pathogens, salinity and algal bloom events," with supplies of safe water already under pressure from changes in the use of land, urbanization and economic development.
'Actionable recommendations'
Heatwaves also "affect the biological processes associated with the decomposition of solid waste and the physical operation of landfills, as well as the health and well-being of solid-waste facility workers and other populations exposed to solid waste."
The guides include, fourthly, the risks heat poses to workers and businessess, and provide "actionable recommendations for business owners and managers to reduce heat risk in the workplace".
They were generated by USAID's Adaptation Thought Leadership and Assessments project.
The Red Cross Red Crescent developed its Heatwave Guide for Cities together with at least 25 other interested partners (list in note to editors here).
People at greatest risk include the elderly, young children, pregnant women, and those with medical conditions or who are socially isolated.
Fans and sprays
"Heatwaves are one of the deadliest natural hazards facing humanity, and the threat they pose will only become more serious…as the climate crisis continues," said Mr Rocca at last year's launch of the publication.
"However, the good news is that heatwaves are also predictable and preventable. The actions that authorities can take to save lives and significantly reduce suffering are simple and affordable."
Examples include better warnings and community awareness, strengthened health-care, cooling systems like fans and sprays, telephone helplines, and more urban green-spaces. 
The influence of climate on heat extremes was evident again last year when cities and countries in western Europe saw record temperatures – an event scientists said was made much more likely by climate change.
A spray park in Cape Town, one of six installed by the city authorities to help children, especially, but also the disabled who cannot use swimming pools, cool off during punishing heatwaves. They have the added advantage of making only light demands on already stretched supplies of water. (Photo: City of Cape Town via Twitter)