'To survive disaster plan for the worst'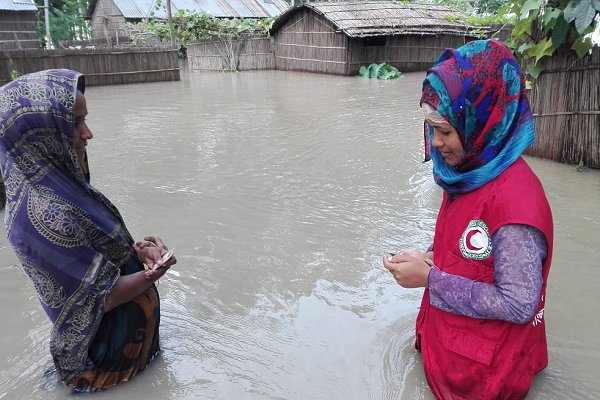 21 February 2020
An opinion piece in the New York Times Wednesday argued that, "If disasters take us by surprise, it's because we weren't looking."
By Tina Rosenberg, the article (To survive disaster, plan for the worst) says that still only rarely "is there pre-planning, pre-fundraising, or pre-agreement" ahead of a disaster.
It cites the positive example of the north-west Bangladesh district of Kurigram last July where – with further heavy monsoon rain forecast – the government and the World Food Programme identified 5,000 particularly vulnerable families and used mobile-phone banking to send each the equivalent of 53 US dollars.
"With that money, the families secured their houses and belongings — for example, buying materials to lift their furniture off the ground. And they could pay the costs of taking their livestock and fleeing," writes Rosenberg, a co-founder of the Solutions Journalism Network that reports on responses to social problems.
"Instead of getting relief after they were wiped out by the flood, the residents were able to avoid much of the loss — for US$ 10 per person."
But the Bangladesh example is one of only a "handful worldwide of anticipating disaster" in this way.
'There's agreement on the value of setting money aside,
on planning, and on what should trigger action,
but what's needed isn't always present'
Things may be changing, however, the article suggests. It says UN Under-Secretary-General for Humanitarian Affairs, Mark Lowcock, is "trying to push the relief system toward anticipating disasters", citing as a sign of progress the growth of the UN's Central Emergency Response Fund – which had been steady since 2006 at about US$ 500m a year – to more than US$ 800m.
Rosenberg mentions other agencies trying anticipatory action, including Red Cross Red Crescent societies in several countries piloting forecast-based financing.
"We've got quite a lot of very persuasive examples," Lowcock told Rosenberg. "It's nice to [help] 25,000 people in Bangladesh, but most situations have caseloads in the millions. There is much more scope to do this than is happening at the moment."
Rosenberg writes: "How we react to disasters matters more than ever. This year, 168 million people will need disaster assistance, a record high."
She says the UN believes that in two years, that number could rise to 200 million – mainly due to "droughts and floods related to climate change, large outbreaks of infectious disease (often related to climate as well)," and conflict.
'Great scope'
"There is wide agreement on the value of having money set aside, a plan for what to do, and agreement on what triggers action," Rosenberg concludes. "But what's needed to get that done isn't always present."
Climate Centre Director Maarten van Aalst said it's very gratifying for the humanitarian sector now to see anticipatory action and FbF in particular covered in influential mainstream media like the New York Times.
"Of course the medium- to long-term plan is for this shift from response to anticipatory action to be fully adopted by national actors, including central government, civil society, and National Societies."   
"We'd also wholeheartedly endorse what the UN has told the New York Times: that there are now many persuasive examples but great scope to do a lot more."
Kurigram district, Bangladesh, July 2019. Nearly 5 million people were affected by monsoon floods and at least 135,000 homes damaged or destroyed. Hundreds of Bangladesh Red Crescent volunteers and staff helped move people to safety and got round the district on rafts to check on others. It also saw a joint anticipatory cash intervention by the government and the World Food Programme for 5,000 especially vulnerable households. (Photo: BDRCS via IFRC)