Record flood-warnings in effect as UK battered by second severe storm in a week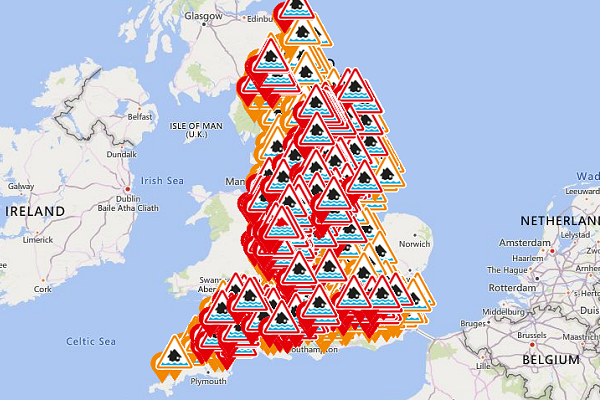 17 February 2020
The UK authorities this weekend had more individual flood warnings in force for England than at any time since records began, as a second severe storm in a week blew in from the Atlantic.
"We now have the most flood warnings and alerts in force – 594 – in England than any other day on record," tweeted John Curtin yesterday, Executive Director of Flood and Coastal Risk Management at the government's Environment Agency.
Four of the warnings were classified as "severe" meaning there was a risk to life from Storm Dennis.
The Met Office yesterday issued a red warning for rain – the highest level – for parts of South Wales, "the first red warning for rain the Met Office has issued since December 2015", it said.
Welsh police said rescue services were dealing with "multiple" landslides and floods over the weekend.
Advice
At one location in South Wales, Powys, 132.8mm of rain was recorded in just over a 24-hour period this weekend, while the average for the whole of February is 110.8mm, the Met Office said.
The authorities were also warning of the danger of unpredictable flash floods.
The British Red Cross, which flagged its standing advice to the public via social media on how to prepare for floods, said it was working with authorities countrywide to assist people affected by the storm.
Crisis Response Officer Georgie Timmins yesterday told UK media the National Society was responding in the counties of Shropshire, Nottinghamshire, South Yorkshire and Gloucestershire, and on standby in Wales, Manchester, Buckinghamshire, Lancashire and Inverness.
"It's important people are ready should the worst happen," she said.
Last weekend Storm Ciara brought as much as 184mm of rain and gusts reaching nearly 160kph, leaving more than half a million people without power.
An Environment Agency map issued yesterday showing almost the whole of England covered by rainfall warnings. (Image: EA)