International scientists launch climate attribution study of Australian bushfires as smoke 'circles the globe'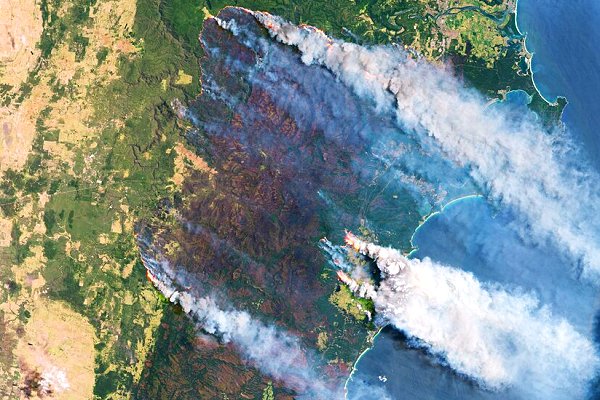 17 January 2020
Climate scientists from the World Weather Attribution group were this week beginning a study of possible climatic factors behind the Australian bushfire disaster that has triggered a major humanitarian response by the Red Cross and others.
The study will focus on three issues in particular and their relationship to manmade climate change: surface temperature, lack of rain ('meteorological drought'), and 'fire weather' – in Australia a combination of wind, temperature, humidity and rainfall.
Results of the new study are expected in about a month.
Scientists generally agree that in Australia the link between simple temperature – not in itself a trigger for fire – and climate change is clear.
"Australia has warmed by over one degree since 1910, with most of the warming occurring since 1950," said the Bureau of Meteorology in its most recent climate statement, issued on 9 January.
Last year was Australia's warmest on record, with an annual national mean temperature just over 1.5°C above average, and its driest.
Factors
The BOM also reported "severe fire weather" throughout 2019, with a "national annual accumulated Forest Fire Danger Index [at its] highest since 1950, when national records began."
The bureau's Head of Long-Range Forecasts, Dr Andrew Watkins, late last year said the "key culprit for our current and expected conditions is one of the strongest positive Indian Ocean Dipole events on record."
Speaking as it issued its 2019/20 summer outlook in November, Dr Watkins said this meant cooler than average seas off Indonesia, less rain-bearing weather, and warmer-than-average temperatures.
"Wildfires anywhere in the world are always the product of quite a number of factors, and the first priority will be to define – in scientific terms, that is – exactly what we're studying; an analysis just of temperature, for example, would not be enough," said Climate Centre Director Professor Maarten van Aalst.
"Our colleagues at the BOM say Australia's climate is increasingly affected by global warming and natural variability takes place on top of this background trend.
"What 'attribution' faces now in the context of the fires is a tricky twofold challenge: can we confidently assess how much of an influence on factors like temperature and rainfall anthropogenic climate change has been, and then weigh the factors that have contributed to the fires?"
'Amazing work'
The US space agency NASA, meanwhile, this week said its satellites had tracked smoke from the Australian bushfires circumnavigating the Earth from west to east.
"[S]earing heat combined with historic dryness" had led to the formation of an unusually large number of pyrocumulonimbus – fire-induced thunderstorms – sending ash, smoke and burning material into the stratosphere some 16 km up, NASA explained. Once there it can then travel many thousands of miles from its source.
"The smoke is having a dramatic impact on New Zealand, causing severe air-quality issues across the county and visibly darkening mountaintop snow," the agency said.
By the middle of last week the Australian smoke had travelled halfway around the Earth, crossing South America, turning the skies hazy and causing colourful sunrises and sunsets, and was expected to make at least one full circuit of the globe, returning to the skies over Australia.
"This is clearly a very remarkable and extraordinary event that we need to explain and understand, and whatever the specific climate contribution it feels like new territory for us all," Professor Van Aalst added.
"But even as we research the causes we are already facing the consequences, and we are all full of admiration for the amazing work of our colleagues in the Australian Red Cross and others in Australia in helping communities deal with the dramatic impacts."
A recent European Space Agency photo of the bushfires on the south-east Australian coast near Nowra. (Photo: ESA)