Increased understanding of 'EAR Watch' in Vanuatu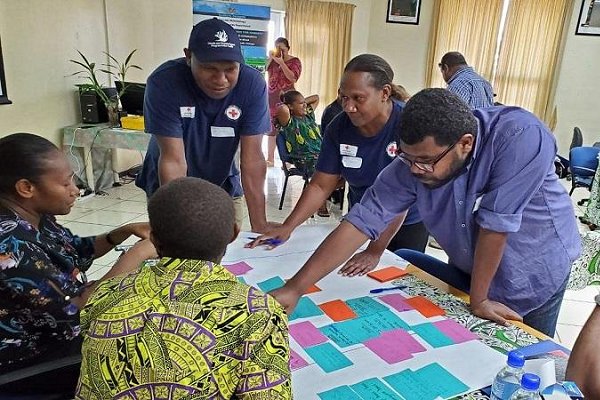 17 January 2020
(A version of this story appeared last month in the Vanuatu Daily Post.)
A workshop held last month in the Vanuatu capital, Port Vila, was aimed at increasing local understanding of the Early Action Rainfall Watch (EAR Watch) bulletins now being issued by the Vanuatu Meteorology and Geo-Hazards Department (VMGD).
It was attended by provincial disaster officers, health workers, school principals, community disaster and climate committees, and Vanuatu Red Cross Society branch officers from Shefa and Tafea provinces.
Some Vanuatu islands, such as parts of Tanna and the small islands off Efate, are currently experiencing prolonged dry conditions.
Drought is often though not always associated with El Niño in Vanuatu; an El Niño event in 2015–16 led to water shortages and crop failure, giving rise to health issues and forcing some schools to close.
But drought-resistant crops, hygiene and health promotion, and better management of food and water supplies are some useful actions that can be taken by communities in advance of severe impacts being felt.
'Actions'
The purpose of the EAR Watch is to provide national and provincial disaster officers with information on the likelihood of very dry or very wet conditions to help communities to better plan, prepare and respond, said VMGD Climate Services Manager Allan Rarai.
Sanma province Disaster Officer Kensley Micah said: "EAR Watch can go a long way in educating people at the provincial level and help with national planning. The product can complement existing plans in linking drought with actions."
Traditional knowledge is also vital in drought preparedness for people in communities to relate to the EAR Watch and take action, said the chair of the Pele Island Community Disaster and Climate Change Committee, Clarence Tamara: "At the end of the day we want people to prepare."
The EAR Watch workshop was supported by experts from the Australian Bureau of Meteorology, the Secretariat of the Pacific Regional Environment Programme and the Climate Centre, with financial support from the French Development Agency through the French Red Cross, and Australia's Department of Foreign Affairs and Trade. (Photo: Philip Malsale)