Hundreds of elderly people died in 2019 UK summer heatwaves, official data says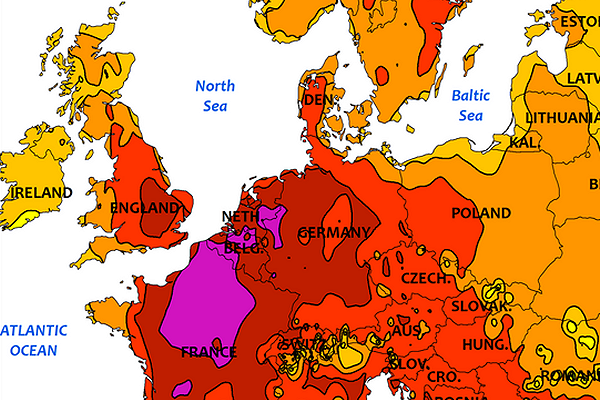 8 January 2020
Official UK data released yesterday says there were just under 900 excess deaths during the summer heatwaves last year – one of which saw a new British modern-era temperature record set of 38.7°C.
The monitoring report from Public Health England says three heatwave episodes, in June, July and August, saw 572 and 320 excess deaths of people aged 65 and over in the latter two respectively, compared to a baseline average; there was no significant excess mortality in the first.
"Heatwaves are predicted to increase in frequency and intensity as a result of climate change," PHE said Tuesday.
The authorities in France and the Netherlands last year reported significant excess mortality during the summer heatwaves that also saw new modern-era temperature records in both countries, but with a generally improved picture overall in terms of heat-related deaths compared to earlier this century.
Serious heatwaves have killed tens of thousands of people worldwide over the past two decades, which also contain almost all the hottest years in the temperature record, including the 2015 heatwave in India that killed some 2,500 people and the 2003 heatwave across Europe that led to more than 70,000 deaths.
The latter event is seen as inspiring a fundamental shift in the perception of heatwaves in Europe to being a major humanitarian concern of governments, Red Cross societies and others.
'Just asking an elderly neighbour if they've had
the recommended six glasses of water can save lives'
An app produced by the British Red Cross, for example, and its online advice enable people to stay in touch with severe weather warnings from the Met Office and includes advice on what to do before, during and after emergencies of all kinds.
In collaboration with the Climate Centre the IFRC last July issued a comprehensive guidebook to help city officials prepare for heatwaves.
The people at greatest risk include the elderly, young children, pregnant women, those with medical conditions, and people who are socially isolated.
Climate Centre Director Maarten van Aalst said last year in response to the French and Dutch data on mortality that statistics are needed to provide an idea of heatwave casualties: "No death certificate gives 'heatwave' as a cause of death, even if heat is actually a key factor.
"But simple actions make all the difference. Just asking an elderly neighbour if they've had their recommended six glasses of water can literally save lives."
The July 2019 heatwave in Europe as mapped by the US Climate Prediction Centre, showing as purple areas where the temperature ranged from 40°C to 45°C. (Image: NOAA)