First national dialogue on forecast-based financing in Nepal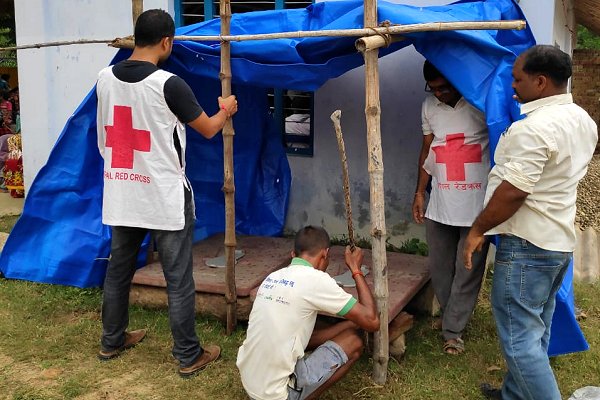 17 December 2019
The first national dialogue platform on forecast-based financing in Nepal was held in Kathmandu at the end of November, organized by the Ministry of Home Affairs, the Nepal Red Cross Society (NRCS) and the World Food Programme.
FbF was first piloted in Nepal by the NRCS in 2018 with a project for 80 households near the River Babai in Bardiya district.
The area suffers flood damage every year during the monsoon; in the 2017 season more than 100,000 people were affected.
The 2018 project included an introduction for local government and the NRCS district chapter on the FbF approach, planning, fieldwork such as mapping alternative access routes to affected areas, and confirmation of evacuation sites together with the authorities.
Simulation
This year a new FbF project was piloted in the same Babai basin, applying a new approach recommended by the Climate Centre after a feasibility study based on lessons learned from the 2018 project.
It targeted all 17 wards judged to be at risk of floods, potentially supporting up to 500 of the most vulnerable households.
The Red Cross collected information on the situation on these communities by mapping accessibility, risks, evacuation routes and sites, and emergency equipment suppliers.
Community volunteers and authorities were also trained on FbF methodology, first aid, emergency shelter and watsan.
Nepal's new FbF approach incorporates a ten-day readiness trigger, which activates preparations for planned activities, and a seven-day activation trigger that launches them.
In the Babai region the former only was reached in July, and a simulation exercise was undertaken in September to test and refine the system.
Trigger mechanism
After heavy floods elsewhere in the country this year, the NRCS is collecting data in two other basins, the Rapti and Karnali rivers, and it's hoped FbF next year will cover total of 72 wards in the three river basins.
"We are pleased to be researching an innovative disaster response mechanism in Nepal," said Under Secretary Shambhu Prasad Regmi from the National Emergency Operation Center during the dialogue platform.
The hope now is that the forecasting technology available in Nepal can be improved from its current three-day window.
Currently, the FbF trigger mechanism is supported by international forecasts in addition to the national one. "We need to be able to invest more in hardware," Regmi added.
Volunteers prepared temporary toilets for evacuated people during the September 2019 simulation. Preparation for FbF response included training of volunteers and local authorities, supplier mapping and data collection. (Photo: Anne-Sophie Petri/Danish Red Cross)