Red Cross Red Crescent climate specialists: 'Small steps at UN climate talks not enough'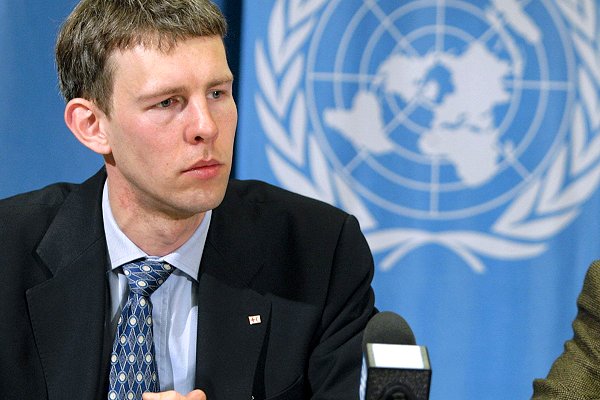 15 December 2019
At the end of a second day of extra time at the COP 25 UN climate talks in Madrid, the Director of the Red Cross Red Crescent reference centre on climate, Professor Maarten Van Aalst, today pledged to "continue to work with all states, and as part of the UN process, to reduce the humanitarian impacts of climate change.
"We in the Red Cross Red Crescent remain concerned at the apparent lack of a sense of urgency to increase ambition to address the climate crisis," he added.
"We welcome the small steps made at this year's COP meeting – with aspects of 'loss and damage', for example – but the reality, however, is that these are not enough to address the local realities our staff and volunteers face on the front lines of the rising risks."
This year's COP meeting coincided with the 33rd International Conference of the Red Cross and Red Crescent, where signatory states of the Geneva Conventions and National Societies meet to discuss the future of humanitarian action and where, this year, climate was high on the agenda.
A resolution at the quadrennial conference encouraged governments to assess whether existing laws and policies address "the evolving risks of weather-related disasters, ensure an integrated approach to disaster risk management and adaptation to climate change, and promote gender-responsive approaches…".
'Existential threat'
The Red Cross Red Crescent Movement is ready to do its share, Professor Van Aalst added today: "We call on everyone – citizens, companies, governments – to increase ambition to reduce emissions, adapt to the changing climate, and cope with the rising impacts."
Speaking on a new Movement-wide pledge on climate at the International Conference, the Director-General of the International Committee of the Red Cross, Yves Daccord, last week called for a "radical transformation of programmes when it comes to climate risk" as well as Red Cross Red Crescent leadership on risk and "our own footprint".
At its own General Assembly last week, the first of three Statutory Meetings, the International Federation of Red Cross and Red Crescent Societies (IFRC) adopted its Strategy 2030 that placed climate at the top of a list of five global concerns.
IFRC President Francesco Rocca told the meeting: "The message from our members and from our millions of volunteers couldn't be clearer – climate change is an existential threat that is already completely altering the work we do and the lives of the people we support."
Climate Centre Director Professor Maarten van Aalst. (Library photo: UN)