Opinion: At the life-or-death edge of climate change, we all have to take action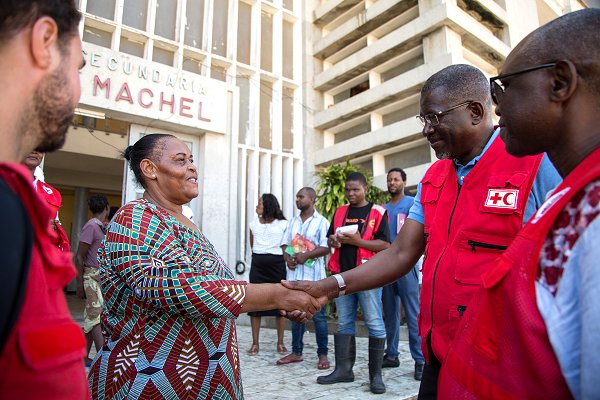 11 December 2019
(With ambitious efforts on climate adaptation and climate-smart development, we could reduce the number of people needing help, argues outgoing IFRC Secretary General Elhadj As Sy in this op-ed piece first published by the Thomson Reuters Foundation yesterday.)
When I began at the IFRC in 2014, I expected to be focusing equally on health emergencies and disasters of all sorts, including earthquakes, volcanoes and industrial accidents. I was frankly unprepared for the extent to which climate-related issues would all-but predominate.
As I prepare to hand over the reins of the world's largest humanitarian network, the prognosis for what we refer to as the climate emergency could hardly be worse.
Nearly 14 million Red Cross and Red Crescent volunteers are responding to the humanitarian impacts of the climate crisis every day.
This year has been yet another record year of extreme-weather events with catastrophic local consequences: Cyclone Dorian in the Bahamas, the floods in Sierra Leone, the drought in Afghanistan and the heatwaves in Europe.
In March I was able to see for myself the staggering scale of the losses and damage Cyclone Idai left behind in Mozambique (photo); hundreds of thousands of people were affected to some degree and more than 500 people were killed.
Extreme-weather events are more frequent, more severe, and we know their impact is worse on the people who are already vulnerable, and living in places or in contexts where they are in danger of being left behind.
Anticipatory action
Climate change is not a problem of the future; it is here now. Even if governments were to fully live up to the greenhouse emission targets to which they have committed, scientists predict that global warming is likely to rise to 2.9 degrees Celsius by the end of the century.
But even as we work to try and stop the climate crisis from escalating, we can prevent and alleviate the human suffering it causes.
Our own hard-hitting Cost of Doing Nothing report attempted simply to do what its title suggests: put a price tag on the international humanitarian cost of doing nothing in the face of  the climate crisis.
Drawing on data from the UN, the World Bank, the EM-DAT International Disaster Database and the IFRC's own statistics, it warned that in the most pessimistic scenario people needing international humanitarian assistance amid climate-related disasters could double to more than 200 million by 2050, with costs ballooning to US$ 20 billion a year by the end of the next decade.
But with ambitious action, centred on climate adaptation and prioritizing climate-smart development, we could reduce the number of people needing assistance to 70 million by 2030, and reduce this even further to 10 million by 2050.
Climate change is an existential threat to people and communities the world over and influences every aspect of what we do.
At the humanitarian, life-or-death edge of the climate issue, we are rethinking not only where current and future vulnerabilities lie, but also how we accompany communities at risk today and tomorrow.
We will expand the use of forecasts to allocate emergency funds ahead of predicted disasters, allowing communities to take anticipatory action such as strengthening their houses, harvesting their crops or evacuating people and livestock before a cyclone makes its landfall.
No other agency has the same continuous presence or reach to do this. The results have been inspiring: more warnings, more lives saved, greater resilience.
Humanitarian imperative
We will help farmers switch to drought-resistant crops, assist communities in the storm-prone Pacific to improve their coastal early-warning system, and encourage European householders to check on elderly neighbours during killer heatwaves.
It has become a humanitarian imperative for the world to rapidly and drastically reduce greenhouse gas emissions, transition to renewable energy sources, and resolutely address the rising risks already facing the most vulnerable people we work with every day.
This week, at our International Conference in Geneva, we will also publicly commit to limit our own climate and environmental footprint and reduce our greenhouse gas emissions. These and many other similar strategies are our pledge as humanitarians. What do we ask in return?
We ask that governments, businesses and citizens all redouble their efforts to put the brake on climate change, reduce their emissions, and work with us in climate adaptation and risk reduction now. We are all facing the life-or-death edge of the climate crisis, and we will all have to act now.
IFRC Secretary General Elhad As Sy meets the Director of Samora Machel Secondary School in Beira, where Mozambicans displaced by Cyclone Idai were being sheltered. (Photo: Denis Onyodi/CVM-DRK-Climate Centre)