Historic virtual hook-up between humanitarians and UN climate community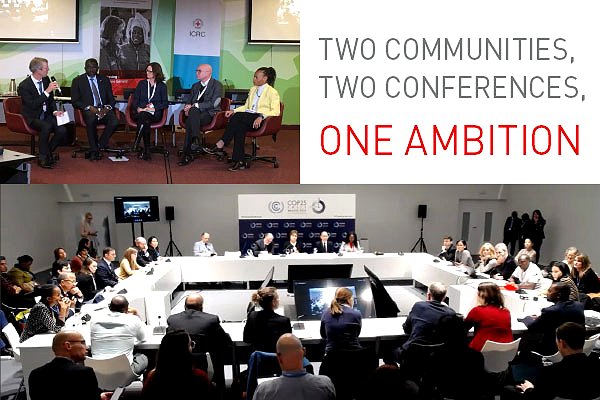 10 December 2019
A joint virtual event from COP 25 in Madrid and the 33rd International Conference of the Red Cross and Red Crescent in Geneva was held today aimed at raising ambition for greater action to address the humanitarian impacts of climate change.
It was the first time the most senior figures from each meeting were brought together in a webcast session that also included an audience Q&A to discuss what has now become known as the climate crisis facing humanity.
The Madrid panel comprised UNFCCC Executive Secretary Patricia Espinosa, IPCC Chair Hoesung Lee, and Paul Watkinson, Chair of the UN Subsidiary Body for Scientific and Technological Advice (SBSTA).
They were joined remotely from Geneva at the International Conference venue by IFRC Secretary-General Elhadj As Sy, ICRC Director General Yves Daccord and the International Committee's Regional Director for Africa Patricia Danzi, and Regina Gujan of the Swiss Agency for Development and Cooperation.
The discussion was moderated by Musonda Mumba – Chief, Terrestrial Ecosystems Unit at the UN Environment Programme, who introduced the event as "an unprecedented circumstance", and Climate Centre Director Maarten van Aalst in Madrid and Geneva respectively.
Ms Espinosa launched the presentations, providing the audiences in Madrid and Geneva with a brief update on the progress of this year's UN climate talks, seen as critical since – in the recent words of UNEP – even the less ambitious 1.5°C temperature goal of the Paris Agreement is now "at the brink of impossible".  
'We really need to bring our heads
and our forces together'
She said there was "a very close relationship" between climate and humanitarian agendas because "actually addressing climate change is about addressing human suffering and…promoting human well-being."
Ms Espinosa added: "I really welcome this effort of bringing us together. I think it demonstrates how much we are all realizing that we need to work together – that there is not one institution that will be able to address this incredible challenge and that we really need to bring our heads and our forces together.
Opening for the Red Cross Red Crescent, Mr Sy emphasized the "permanent presence" of the Movement's volunteers who were themselves part of the very communities that were experiencing the impacts of climate change every day. He echoed Ms Espinosa in saying: "We can only solve this together."
Mr Sy argued that "three pillars" had to combine to make a difference in the end: the science that provided a picture of what was happening with the climate was the first; then there were local actors and activists, with the Red Cross Red Crescent representing people on the front line of climate impacts.
His third pillar was "the politics and the politicians that will have to create the enabling environment so that we overcome the bottlenecks that sometimes face us"; he wanted to join the other speakers in saying "none of us alone can make it, we need to do it together.
"That's why we are very pleased from Geneva to join you out there in Madrid and through you to the whole world, so that we travel this journey together."
Yves Daccord stressed the importance of incorporating finance in the UN talks: "Where do we finance? Whom do we finance? I think it's a critical element that [the talks in] Madrid should also consider when we talk about the financial architecture."  
Maarten Van Aalst pointed out that there is no all-encompassing guidebook in the humanitarian sector to compare with IPCC assessment reports on the global climate, but he argued the knowledge gathered thereby was "extremely relevant for the work we do in the field".
Addressing the question to Hoesung Lee, he asked how the bridge with science could be strengthened for the benefit of humanitarians and also in what was provided to policy-makers.
Mr Lee said he "particularly wanted to highlight the issue of food security, which will be threatened as a result of worsening climate and also increased competition for land [that] will be used as a mitigation tool…if we fail to make immediate reductions in greenhouse gases."
"Immediate action" on GHG, he added, carried some short-term costs, but would "give us a great opportunity to make this world healthier, cleaner and more resilient."
'I can only ask you, please keep negotiating,
keep innovating and keep making progress,
and always zoom in'
Ms Danzi spoke of the "double vulnerability" generated by the combination of climate impacts and conflict in Africa. "The DRC, South Sudan, Somalia, the Sahel region, the Central African Republic –these are all places where flood and drought and decades of conflict make lives especially hard for people…"
Addressing the negotiators in Madrid, she said: "I can only ask you, please keep negotiating, keep innovating and keep making progress and always zoom in.
"Look for the fertile grounds in terms of your investments; look at the most fragile countries, but then zoom in further. You have to find the most vulnerable in these countries because these are the ones that will be the most exposed to the risks of climate and violence."
Humanitarian action could not replace the UN negotiations, she said, but "in the meantime, and this meantime is sometimes very long, we will have stepped in and mitigated some of the effects that hit so many people."
For Switzerland, Ms Gujan echoed the theme of working together, arguing that "we have to break silos, and because none of us can really tackle everything, every challenge…only concerted efforts from both sides across these areas can succeed and efficient."
Mr Watkinson said an SBSTA task force on displacement "has been a very important modality in the last couple of years…bringing together different communities, including the humanitarian community, to share experiences and bring us together".
Today's historic virtual joint event from COP 25 in Madrid (lower photo) and the International Conference of the Red Cross and Red Crescent. (Photo: social media)