Development and Climate Days 2019: Illumination amid 'a sea of warnings'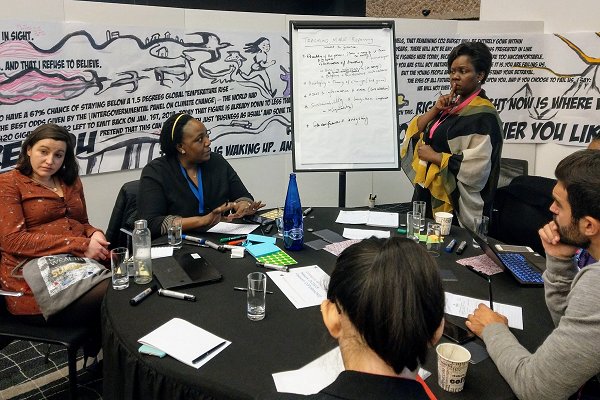 8 December 2019
The 17th annual Development and Climate Days took place in Madrid today, over a single day this year after the UN climate talks were rescheduled from Chile to the Spanish capital.
Intended to develop the Building a Resilient Future dialogue from this year's UN climate summit, it incorporated the five resilience-centred themes of food and agriculture, early warning early action, finance, working with nature, and cities, infrastructure and energy.
Despite the necessarily shortened format, D&C Days was again encouraging "dialogue on a range of issues that link policy, knowledge and practice," said organizers.
"Innovative approaches encourage participants to interact, challenge existing thinking and generate new ideas, leaving no one behind."
The event, by tradition held on the middle weekend of the COP meeting, gathers representatives of grass-roots organizations and NGOs, the Red Cross Red Crescent, development practitioners, national climate leaders and policy-makers.
'Dials'
In an opening address today, IIED Director Andrew Norton said D&C Days remained important as a reflection of participants' commitment to climate justice and their focus on the poorest countries and people, and as a launch pad for messages aimed at the COP negotiations themselves.
He added that "since Paris the context has changed. At Paris we were mostly optimistic that we had a framework that could drive change in the world.
"But the dials haven't moved yet: emissions are 4 per cent higher since Paris and every year the remaining carbon budget for a safe world declines."
Recalling the recent UNEP report which found emissions now needed to decline at 7.6 per cent a year "for a decent shot" at limiting warming to 1.5 degrees, he concluded that "in short we are clearly in a crisis situation, a climate emergency."
This year's event is a partnership between the International Institute for Environment and Development (IIED) and at least 11 other organizations.
It included 12 side events covering a wide range of topics, including a session on making gender-responsive climate finance a reality and another entitled Climate grief and resilience in a sea of warnings: can we move from darkness to illumination?
Two new warnings on emissions last month from within the UN system suggested the world will struggle to meet even the modest ambitions of the 2015 Paris Agreement.
'Funding flows'
The venue was also lined with a 16-metre mural "sharing Greta Thunberg's words and collaborating on a moving work of art," IIED said.
A closing panel focused on ensuring "messages are resonating with key agents for change, ranging from the grass-roots to the major global institutions shaping how funding flows and policies address the needs of the most vulnerable."
It included Bisola Akinmuyiwa of Slum/Shack Dwellers International; Sheela Patel, Founder and Director of Society for the Promotion of Area Resource Centres; Louise Cord, Global Director for Social Development at the World Bank; and Saleemul Huq, Director of the International Centre for Climate Change and Development, who initiated D&C Days alongside COP 8 in Delhi in 2002.
It was chaired by Megan Rowling, a correspondent with the Thomson Reuters Foundation specializing in climate, development and resilience.
This year's D&C Days overlapped with the Red Cross and Red Crescent Statutory Meetings, which included – as part of last week's IFRC General Assembly – adoption of Strategy 2030, with climate at the top of a list of five global challenges for the coming decade.
A side-event at this year's D&C Days in Madrid. At the end of a year that has seen several serious warnings about emissions, the meeting seeks to encourage participants to "interact, challenge existing thinking and generate new ideas, leaving no one behind". (Photo: IIED)